I was in two minds about whether to post about this, as it's sold out online and you'll most likely struggle to find it available in stores either; the Soap & Glory Best of All gift set was reduced from £60 to £27 on Friday and I couldn't resist ordering it. The wait for the confirmation email from Boots was a tense few hours but eventually it arrived and then the countdown was on for delivery! I'm so glad I bought this set, it's such good value for money and contains a lovely mix of products, most of which I haven't tried before; this makes it a great opportunity to find some new favourites!
Nine products, all full-sized, are included: 300ml tub of
The Righteous Butter
; 125ml tube of
Hand Food
; 300ml tub of
Sugar Crush Body Scrub
; 125ml tube of
Heel Genius
; 500ml bottle of
Smoothie Star
; 500ml bottle of
Clean On Me
; 200ml Bottle of
Peaches & Clean
;
Thick & Fast Mascara
;
Sexy Mother Pucker Lip Gloss
in 'Punch Bowl' (I've linked to the individual items on the Boots website). Also included is a book full of vouchers for money off or bonus Advantage card points when you purchase Soap & Glory products, which will be handy if I decide I can't live without one or more of my purchases!
These items work out at just £3 each, so when you consider their individual RRPs you're getting an absolute bargain! The only product I've actually tried from the selection is the
Thick & Fast Mascara
, which I absolutely loved. My tube is just reaching the end of its days and, although I have a couple of other mascaras to use up, I'm so happy to have a replacement. I'm really looking forward to trying out the other items as well, particularly Peaches & Clean after reading
Lizzie's review
and Sugar Crush, which smells amazing! I'm planning to review the products over the coming weeks to share my thoughts with you all.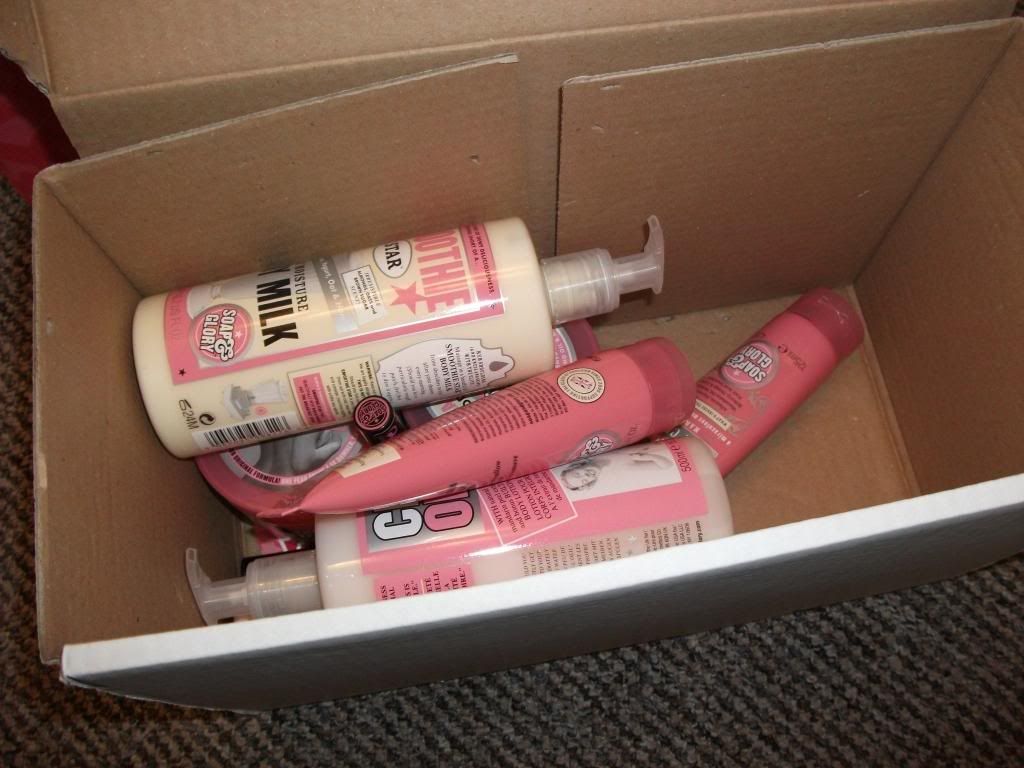 The only thing I didn't like about this set (and it's a minor niggle!) was the packaging; I feel that the big pink bag included is far too big and I didn't feel that the items were well protected within it, just thrown into a cardboard box with nothing to stop them rolling around and damaging each other. Thankfully all my items arrived safely but I can't help thinking there's a lot of wasted packaging, and I have no use for a cosmetics bag this large!
Did you indulge yourself (or a loved one) with the Best of All gift set? Do you love Soap & Glory products?
xo