I love reading Favourites posts, and whilst I don't feel there's enough variation in my routine to warrant me doing a monthly favourites, I've definitely found enough products over the course of 2012 to make it worthwhile. So, here you have my top twelve products of the year!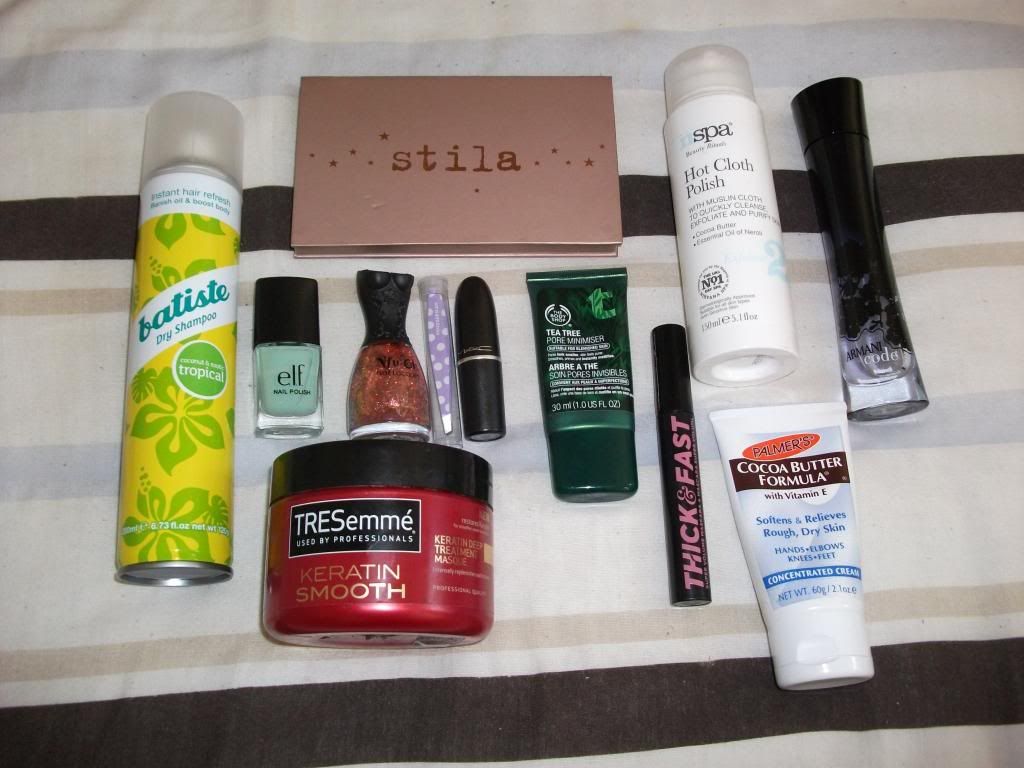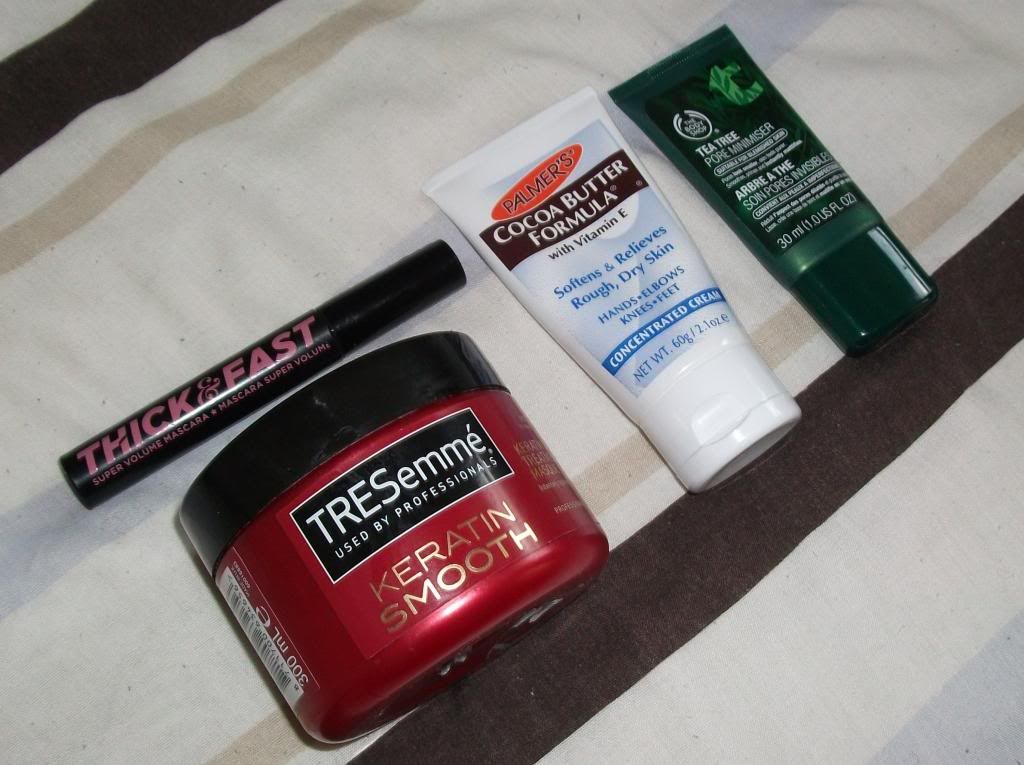 TRESemmé Keratin Smooth Deep Treatment Masque
This is still my all-time favourite hair product, as well as one of my most popular review posts. This little gem transforms my hair from a dry, tangled mess into smooth, silky locks. I am absolutely in love with it, I wouldn't be without it. I've recently bought the shampoo and conditioner from this range and can't wait to see if they match up to the Masque's standard - watch this space. TRESemmé Keratin Smooth Deep Treatment Masque is available from
Boots priced at £5.50
for 300ml, although it's often in their 3 for 2 offers so they're worth watching out for.
Palmer's Cocoa Butter Formula with Vitamin E Concentrated Cream
This hand cream is a new addition to my handbag (and desk, and bedside table...) but definitely one I wish I'd found sooner. I suffer quite badly with eczema, including horribly dry hands, to the point where my skin literally cracks and bleeds and flakes off (it's really attractive!) This thick, creamy yellow butter smells amazing and has been working wonders at softening up my scaly skin and keeping it hydrated. I found this in Bodycare at £1.25 for 60g, but it's also available at
Boots for £2.25
if you don't have a Bodycare near you.
Soap & Glory Thick & Fast Mascara
I originally got this mascara free with a magazine and fell in love with it; I've recently got a replacement in my
Best of All gift set
which I treated myself to, and I'm so happy. This mascara is perfect for me, thickening up my lashes without making them look spidery or un-natural, which isn't the look I go for. I love it! This is priced at
£10 and is available from Boots
.
The Body Shop Tea Tree Pore Minimiser
I purchased this on a whim and I'm so glad I did! For me, it's like Benefit's The POREfessional but better - it has actual skincare benefits due to the anti-bacterial nature of Tea Tree Oil, and it's a mere quarter of the price. It's perfect for blurring my crater-pores and smoothing my skin before I apply my foundation. Tea Tree Pore Minimiser is available from
The Body Shop at £7.50
for 30ml.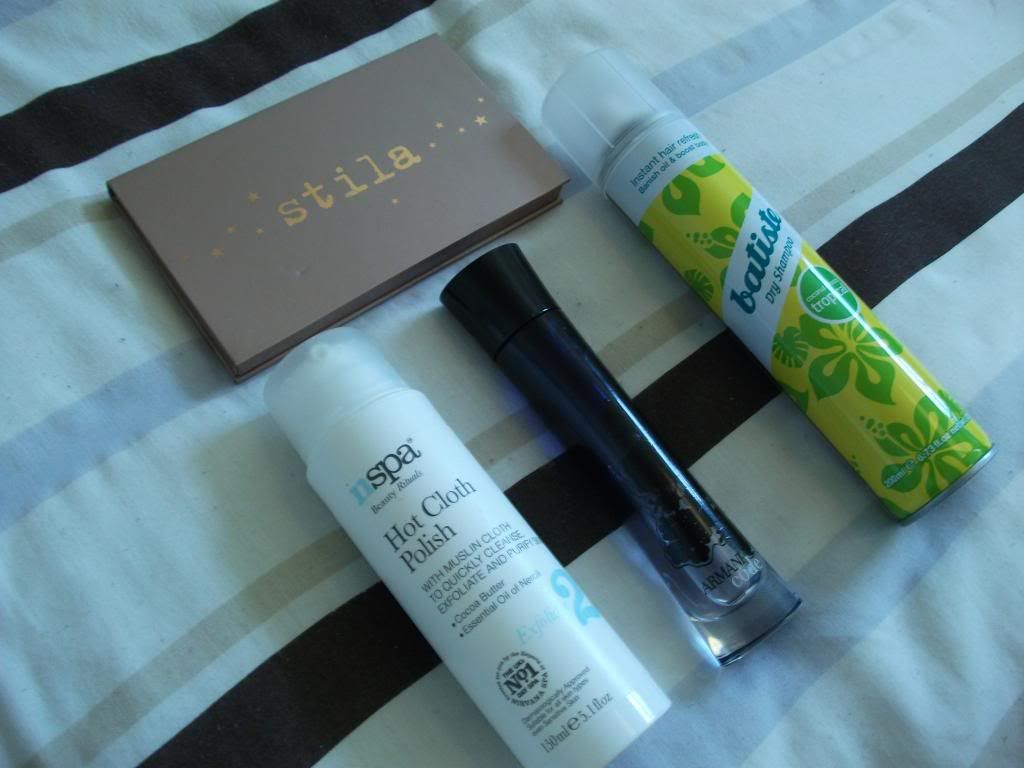 Stila In The Light Palette
I was lucky enough to win this palette in a giveaway on Elena's blog,
Endless Summer
and I absolutely love it. It's a lovely neutral palette, all the shadows are super-pigmented, and it came with a brown eyeliner crayon as well which is just gorgeous, so soft and easy to use. The ten shades range from a gorgeous matte creamy colour, through shimmering golds and coppers, right through to black. This really is a palette that would suit anyone, it sees a lot of use from me and it's definitely one I'd recommend. It's a little pricey, but I'd say it's worth every penny. It's available from
BeautyBay at £25
.
nSPA Hot Cloth Polish
This was another product I picked on a whim, this time from Asda because I was looking for a new cleanser and this came in a pretty box (yes, I really am that easily swayed.) This is actually perfect for me, it removes my make-up quickly and easily, leaves my face feeling really soft and clean, and it's done my skin the world of good - my blackheads are decreasing and my blemish-prone skin is much clearer - I have my Soap & Glory Peaches & Clean Cleanser to use up once I've finished my bottle of this, but it's definitely one I can see myself re-purchasing as it's worked so well for me. nSPA Hot Cloth Polish is available from
Asda, priced at £7
for 150ml and one muslin cloth.
Armani Code for Women
I've never really discussed perfumes on my blog as I feel that they're just too personal; I'd never buy a perfume on someone's recommendation without having tested it myself, so I don't personally feel it's something worthwhile sharing - that and I'm hopeless at describing perfumes. That said, I absolutely
adore
Armani Code, which I treated myself to with some gift vouchers earlier in the year. It's definitely not a cheap perfume, but I wear it most days, and I've had so many compliments on it. I find it lasts really well too, so even after a full day in the office or at Uni I still smell good. Armani Code is available from
Boots at £72
for 75ml; smaller sizes are available.
The Perfume Shop
actually have a nice giftset at £39.50 for a 30ml perfume plus a body lotion.
Batiste Dry Shampoo in Coconut & Exotic
It's only this year that I've really learnt to make dry shampoo work for me, and you honestly can't beat the smell of this number from Batiste. It's halved the amount of time I spend washing and drying my hair - literally. So as well as doing wonders for my gas and electric bills, it also means my poor boyfriend has a shot at the bathroom every now and then! Batiste Coconut & Exotic is available from
Superdrug at £1.45
for 200ml - half price, don't you know!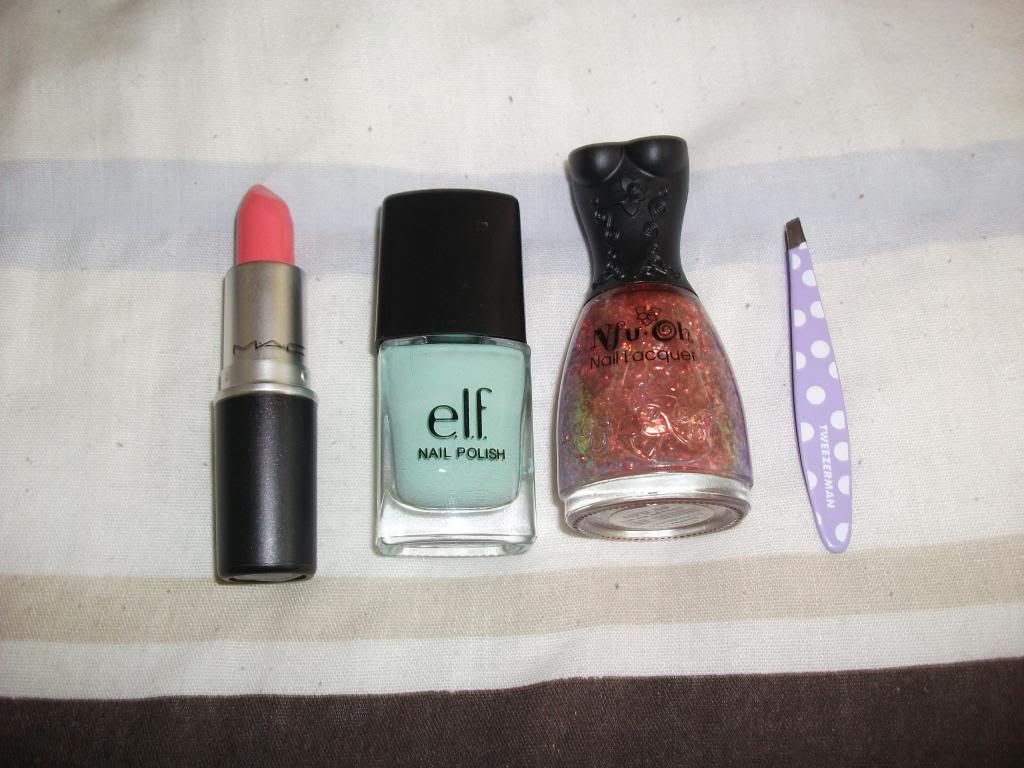 MAC 'Cut A Caper' Lipstick
I've never been one for wearing lipstick, but I've been getting a little braver this year. I actually won this little beauty from
Grace
and it was perfect for easing myself into the lippie habit. It's easy to slick on and forget about as it's such a my-lips-but-better shade, and it smells amazing. It also doesn't dry my lips out which I love. Cut A Caper was part of MAC's Heavenly Creatures collection and is unfortunately no longer available.
Tweezerman Mini Slant Tweezers
After using a cheap pair of tweezers for my entire adult life, it was a revelation to me when I finally gave in and purchased a pair of Tweezerman's; plucking your eyebrows can actually be a joy! My pair are lilac polka dot, they're so cute and pretty and they're really easy to use, meaning I no longer have an excuse for not looking after my brows. Tweezerman Mini Slant Tweezers are available from
Boots at £14.50
.
NFU.Oh 'Storm In A Teacup' Nail Polish
I actually purchased this with a gift voucher I won on NFU.Oh's Facebook page and then didn't use it for months and months. When I finally did, I fell in love with its multi-chrome, flakey goodness. This is the perfect top coat for brightening up a plain nail colour with a little bit of sparkle, and gives a really unusual finish. These polishes also come in gorgeous bottles with a corsetted lid, 17ml will set you back
£14.95 from NFU.Oh's website
.
ELF 'Mint Cream' Nail Polish
I love pastel nail polishes for a subtle pop of colour, and this mint shade is an especial favourite for me. It has a lovely creamy formula and applies really nicely, and lasts well too. I've found it makes a great base for
nail art
as well as looking super pretty on its own. All ELF nail polish is priced at
£2.50 for 10g
, which is a great bargain for such a lovely product.
What do you think? What are your must-have products of 2012? Do you share any of mine?
I won't be posting again now until after Christmas, I'll still be around on Twitter but I just wanted to say, have a wonderful Christmas filled with happy times, and thank you for sticking with Just Jesss over the course of 2012. There've been a few bumps in the ride but I'm so glad to have you all here. Obviously if you don't celebrate Christmas, then just enjoy a couple of days' relaxation! See you on the other side guys.
xo