I've never published an "Empties" post before, but they're one of my favourite types of posts to read on other blogs - I always think it's really interesting to see what someone's liked enough to completely use up! With that in mind, I decided I'd give this a go for a couple of months and see how I get on. So, this is what I've used up in January; I think my boyfriend thinks I've gone quite mad, I tell him off for leaving empty boxes and cartons on the side for ten minutes, yet I've spent the month with a heap of empty containers at my side of the bed.. Never mind!
Pantene Ice Shine Shampoo & Conditioner for Fine Hair
I like using products aimed at fine hair as my scalp gets oily so quickly and I find they make it easier for me to wash my hair every other day rather than every day. I enjoyed using these, they left my hair feeling clean and soft, and they were super cheap - I think maybe £2 each from Wilkinson's.
Repurchase?
No, but with a disclaimer
- As I've mentioned a couple of times, I suffer quite badly with eczema on my hands, and recently it's been getting worse, as well as appearing on my arms, legs, and underarms. In a bid to improve this, I'm cutting out products containing SLS for a while. I didn't want to go crazy and throw away anything that contained SLS in case it doesn't help, so as things get used up I'm replacing them with non-SLS versions. I will be doing a post on this in a month or so to share how I get on. Until then, I actually have a Tresemmé shampoo which contains SLS to use before I replace my haircare.
nspa Hot Cloth Polish
I'm sad to have come to the end of this, although also a little happy because it means I get to use my Soap & Glory Peaches & Clean from the
Best of All set
. I've loved using this cleanser, it's lasted really well, and my skin is so much better from regularly using this. I reviewed this in full in December if you'd like to know any more about it!
Repurchase?
Yes, as long as I don't end up liking Peaches & Clean more!
Neutrogena Visibly Clear Pink Grapefruit Daily Scrub
I've had this
months
, and let me tell you, I'm glad to see the back of it! It smells amazing, a lovely fresh fruity smell which is perfect for mornings, but as you might know from previous posts, I like my scrubs to be scrubby. I have very oily skin and I didn't find this did anything to exfoliate it; it's a face wash and nothing more, for me. If you have dry skin, you might get on better with it, but the heavy scent might be a bit too much for sensitive skins. Either way, we didn't get on.
Repurchase?
No
Dove Intensive Nourishment Hand Cream
I bought this to try and combat my increasingly dry, cracking, flaky hands, drawn in by the "intensive nourishment" and "DeepCare Complex" promises. Since doing a little more research into ingredients, I've discovered that parabens and petrolatum are things I should probably avoid, which might explain why this made no difference to my hands; it soaked in to leave my hands just as dry and sore as before.
Repurchase?
No
Marshmallow Blends Caramel Cupcake Scrub
This is one of those products I gleefully rediscovered amongst my boxes of beauty items, and I'm sad to see the back of it. It smells absolutely gorgeous, gives just the right amount of exfoliation, and doesn't leave any nasty greasy residue on the skin - just an amazing, caramel scent and lovely softness! I haven't actually reviewed this on the blog, but have a peek at
my other Marshmallow Blends reviews
, if you're interested in their products.
Repurchase?
Yes, once I've used up some other scrubs I already own
. I'd quite like to try some other fragrances, but I'll definitely be repurchasing this!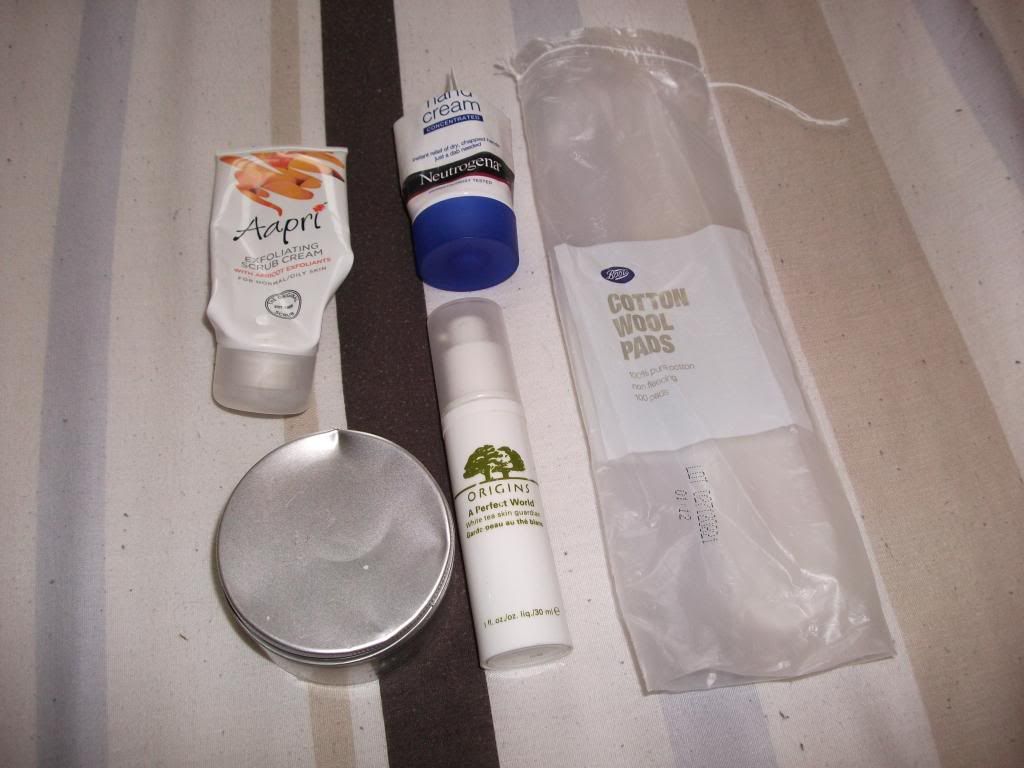 Aapri Exfoliating Scrub Cream
I reviewed this a while ago as part of my Budget Beauty Series, and I still love it. I use it two or three times a week to buff away dead skin cells, and I really like that it contains quite coarse exfoliating particles as my skin is so oily. I can't find this anymore in my local Poundland, so I'm glad I bought a back-up a while ago!
Repurchase?
Yes, if I can find it again!
Marshmallow Blends Honey & Almond Cake Body Butter
Another Marshmallow Blends product that re-appeared in one of my many boxes of tricks. I love this for applying straight from the bath or shower, especially after shaving - it moisturises so well, and smells incredible.
Repurchase?
Yes
- although not until I've used up a heck of a lot of
other body butters
, and again I think I'd like to try it in a different scent!
Neutrogena Norwegian Formula
Again, this was an attempt to treat my poor hands, and again, since investigating the ingredients list more closely, I'm not surprised it hasn't been helping. This used to work so well for me but lately, it just hasn't been making a scrap of difference. I'm aware this post makes me look like some kind of hand cream fiend; whilst that's technically true, I'd like to clarify that I keep hand cream everywhere - on my desk, next to my bed, in my handbag, next to every sink in the house... It just so happens I've finished up a few tubes this month.
Repurchase?
No
Origins A Perfect World White Tea Skin Guardian
This is another product I re-discovered since moving into my own house and having my own bathroom - I've actually had it since, I think, the Christmas before last, when I received it in a gift set. It's a serum, designed to be used before moisturiser, and whilst it's lovely to use, I don't feel it really did anything for my skin - I think it's more aimed at aging and/or dry skin, which isn't me. It smells beautiful and it's definitely something I'd consider in the future, but at the moment there are better, more suited products for me to spend my money on.
Repurchase?
No
Boots Cotton Wool Pads There isn't really an awful lot to say about these - I use them for removing eye make-up and nail polish. They do the job. I don't get through them as quickly as I used to since switching to a hot cloth cleanser as opposed to the liquid soak-a-cotton-pad variety, so a packet this size tends to last me a couple of months, and I usually stock up when they're on offer.
Repurhase? Yes
I think that's a fairly impressive collection for my first month! Obviously I've come to the end of quite a few long-lasting products at once, but even so I'm amazed at how much I've got through.
Do you like reading Empties posts? Is this something you'd like me to keep up posting on a monthly basis?
xo