I mentioned that I'd picked up a couple of items from TKMaxx in my
January Sales Haul post
; Laidbare's
For Richer, For Porer
Pore Minimiser Facial Masque (longest product name ever!?) was one of them. I've used it a few times now and I just wanted to share my thoughts - and, of course, a silly photo of it in use!
Laidbare
are a company promoting naturally inspired beauty, aiming to use beneficial natural ingredients and combine this with great value-for-money for the customer.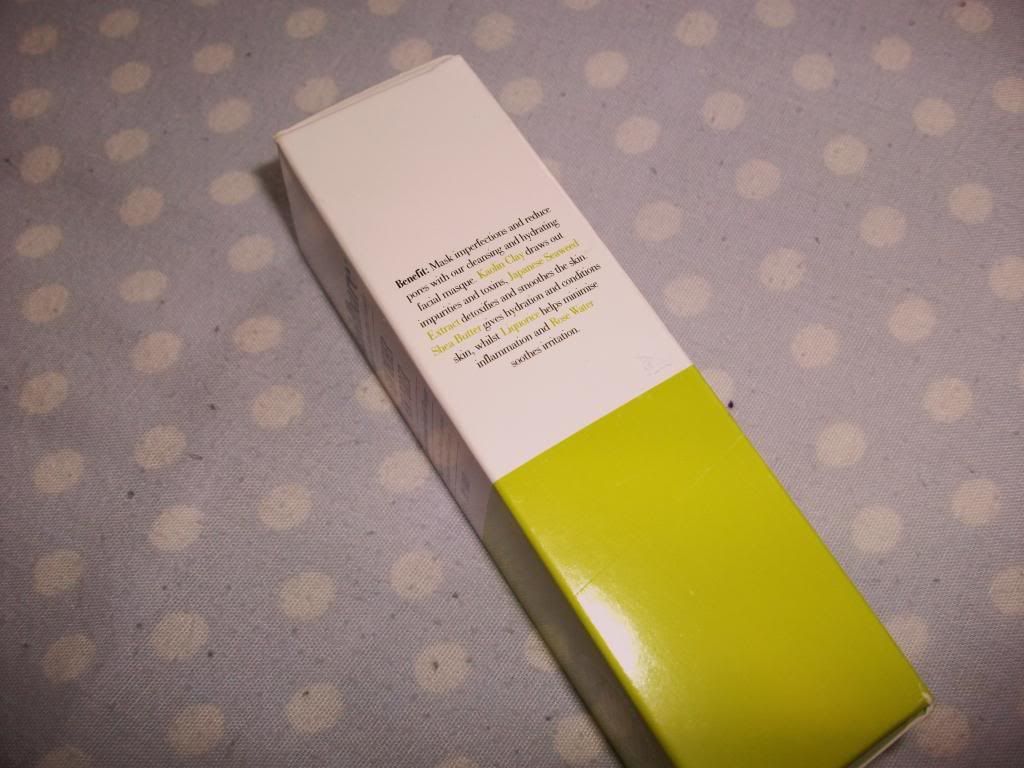 Presented in a green and white cardboard box and a white squeezy screw-top tube, the packaging of the product is really nice - it feels fresh and clean, and it's hygienic to use as you just squeeze out as much as you need, then screw the cap back on for next time. It's easy to control how much you get out and I find it's best to squeeze out a little at a time, applying as you go, just to make sure you don't get too much. According to the packaging, this is a pore minimising facial mask designed for oily/combination skin. Active ingredients include Kaolin to draw out toxins and impurities, Japanese Seaweed Extract to smooth the skin, Shea Butter to hydrate and condition, Liquorice to reduce inflammation and Rose Water to soothe any irritation.
Squeezed from the tube, this is a thick white cream which softens slightly from the heat of the skin, meaning it's really easy to apply to the face. It contains little exfoliating pieces which help to buff away dead skin cells and grime as you apply and remove. You can really smell the Liquorice in it as you apply it, which personally I love, but the scent does fade after a couple of minutes so I don't think it'd be a huge problem if you're less keen. Following the instructions, I've been leaving this on for about ten minutes. As the mask dries, it seems to soak into the skin, leaving only the exfoliating particles, but as you add water to rinse it off it melts down into a creamy consistency, making it really easy to remove. My skin is left feeling really soft and clean, and I honestly have noticed a difference in the size of the pores around my nose; it's not a miracle worker, but it definitely helps for me, and I'm looking forward to seeing if it continues to help as I carry on using it.
For Richer, For Porer has an RRP of £6.99, but it's currently on a special offer at £3.49 for 50ml
direct from the company
. I've really enjoyed using this mask and I definitely think that it's helped my skin in terms of the size of my pores, so if that's something you struggle with then I'd recommend giving it a try!
xo