For once, this post will contain no mention of the (rather extensive) contents of my current handbag; this time, I'm referring to
What's In My Handbag
, the members-only website where you can discover and try new beauty products. The concept is based around a
peek into the handbags
of fashion, beauty and creative insiders, with a focus on the beauty products they can't live without. You can add products you love to your Cabinet, and ones you'd love to try to your "Want" shelf. You have the chance to receive a sample of items on your "Want" shelf, although you are limited to ten Wants per month. You can also purchase trial-size items at discounted prices, and full-sized products which come with a deluxe sample for you to try, with the promise of a full refund if you return the full-size unused because you decided from the sample that it wasn't for you - a great premise for pricier products where you may not want to spend the money without being sure how you'll get on with the product first. I can't help thinking you could pop to the brand's counter and ask for a sample, but I guess not everyone is comfortable doing that, or you might not have access to the particular brand's counter, so it still works as an idea.
I've been a member since the website launched, but have never actually participated in any of their "Trys" until recently. There's been a lot of hype around Alpha H in the blogging world, so when What's In My Handbag had a set of four trial-sized products for £9.50, I decided to give them a go. As a fan of packaging and a lover of the personal touch, I was really happy when this popped through my letterbox a few days later. I've not tried any of the products yet, but I'll be sure to share how I get on in a few weeks.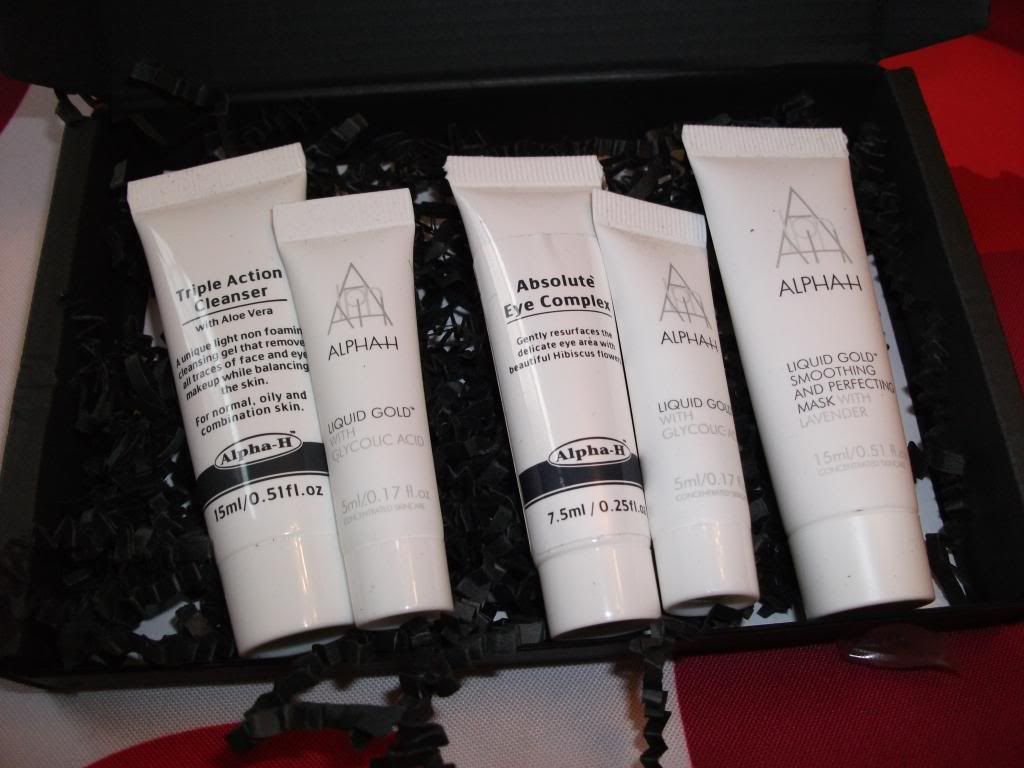 The set included 15ml samples of Triple Action Cleanser and Liquid Gold Smoothing & Perfecting Mask, a 7.5ml sample of Absolute Eye Complex, and 2 x 5ml samples of Liquid Gold Resurfacing Lotion. I also received a little card telling me what each item does, and how to use it.
As a "founding member", I got free P&P, and I can't find anywhere on the site which tells me how much P&P would be otherwise. Aside from this (very,
very
minor) bugbear, I really love What's In My Handbag, I think it's a great concept and a really lovely way to discover new products. It's free to sign up, so I'd definitely recommend becoming a member if you aren't already!
xo