With Valentine's Day almost upon us, the lovely people at Montagne Jeunesse very kindly sent me this
Passion Peel-Off mask
to help prepare for a "perfect passion-filled Valentine's" - I don't think they're promising anything though!
"This blissful blend of pomegranate and passion flower infused with delicious raspberry, grape and cranberry banishes blemishes and leaves your skin feeling fresh, perfectly purified and primed to get up close and personal!" As always with Montagne Jeunesse products, the Passion Peel-Off is suitable for vegetarians and uses natural ingredients wherever possible; this means no parabens or other nasties. Instead, the mask contains extracts of Passion Flower, which is rich in Potassium, and Vitamins A & C, as well as being a natural antibacterial agent, purifying and protecting the skin. Meanwhile, Pomegranate provides anti-aging benefits and is packed full of antioxidants and Vitamins A, C & E to cleanse and help protect the skin from harmful free radicals. Phew! A whole load of super-lovely ingredients, then!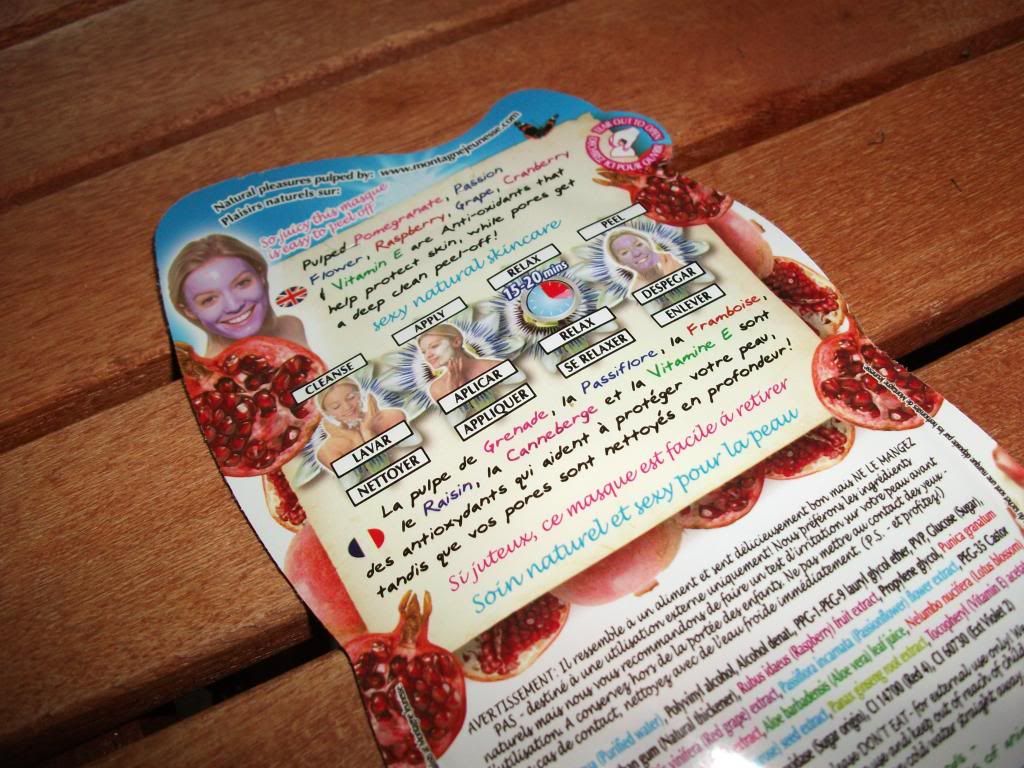 Unlike the purple cream shown on the packaging, the mask actually came out as a thick pinky-red gel, and I found the sachet contained just the right amount of mask to generously cover my face. One thing I have to mention is the smell - thankfully it faded after a couple of minutes, as the mask started to dry, but I really didn't like it. Usually I love the scent of Montagne Jeunesse's products, but this one was just strange. The only thing I can liken it to is weed, which isn't something I want on my face! Other than that, though, I really liked this mask, which dried to a film in about twenty minutes. Once I'd peeled it off and washed my face, my skin was left soft and smooth, so I'd say the mask lived up to its claims.
Overall, I liked this mask, but the scent really put me off so I don't think I'd buy this again; just purely because there's so many other Montagne Jeunesse masks which I like and which don't smell quite so odd. The Passion Peel-Off is available at ASDA and other large retailers, or online from
Montagne Jeunesse's own website
, priced at £1.09 for a sachet.
How will you be preparing for Valentine's Day? Do you use face masks in your preparations for a big event or date?
xo
(Please note, this product was sent to me for the purposes of a review. I have not been paid to post this and, as always, all opinions are honest and truthful!)