I did a bad thing. I went on BuyaPowa, only to see that one of the co-buys they were running was for the shiny new Urban Decay Naked Basics palette, for just £14.50 (a saving of £6.50 off its £20 RRP). So I bought it. No regrets, right? And I have to admit it's pretty, with its diminutive size and its rubberised casing and its five matte/one satin finish shades. I know I'll get a lot of use out of it, I know the shadows will all be great quality, and I know it'll be perfect for travelling. I'm trying to convince myself all of these things make it okay that I bought
yet another
neutral eyeshadow palette.. When I know I prefer bright colours on my eyes.
Sometimes I wonder about myself!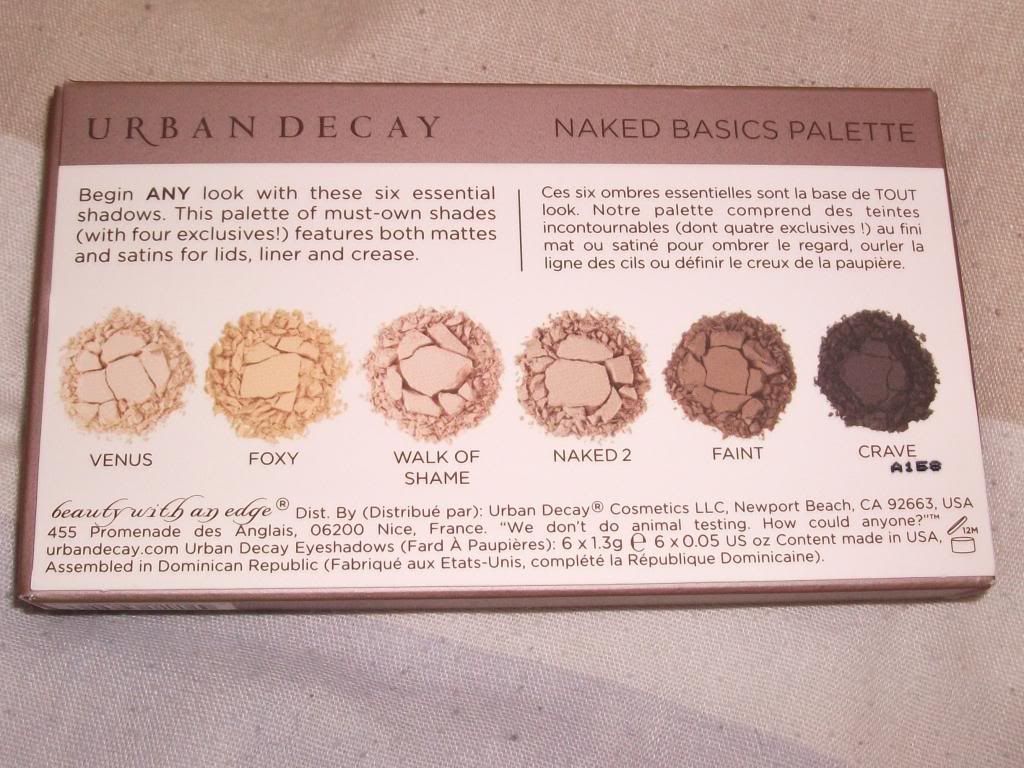 From left to right, Venus is the only satin-finish shade in the palette, a creamy ivory ideal for highlighting. Foxy (a repeat from the Naked2 palette) is a yellow-toned cream. Walk of Shame (W.O.S.) is a peachier cream, the other repeated shade in Basics, whilst Naked2 (which would surely have been better suited to the Naked2 palette!?) is a soft grey/beige. Faint is a cool-toned medium brown and Crave is a deep, dark brown, almost black. This is a versatile palette, which will allow you to create a range of looks from a no-make up eye, through a neutral/work-friendly look, right through to a smokey, dramatic evening look.
Unlike the previous Naked palettes, Basics doesn't include a brush or a miniature (Naked came with the Primer Potion, Naked2 a mini lipgloss), but personally, I don't feel this is a great loss - I've never used my lipgloss and the brush is only a last-resort, none-of-my-other-brushes-are-clean item for me. I'd prefer to save a couple of pounds and go without these extras, to be honest!
Have you picked up the Naked Basics palette? Do you own either of the other Nakeds?
xo