Happy Easter! I hope you're all having a lovely day and haven't entered too much of a sugar coma. I can't believe it's the end of March already - we're a quarter of the way through the year! 2013 is flying by much faster than I would like, I wish it would slow down a little. I had a slow start to the month and didn't manage to finish up many products, but had a bit of a flood in the last week or so, so I did actually finish about as many products finished up this month as I did in January and February.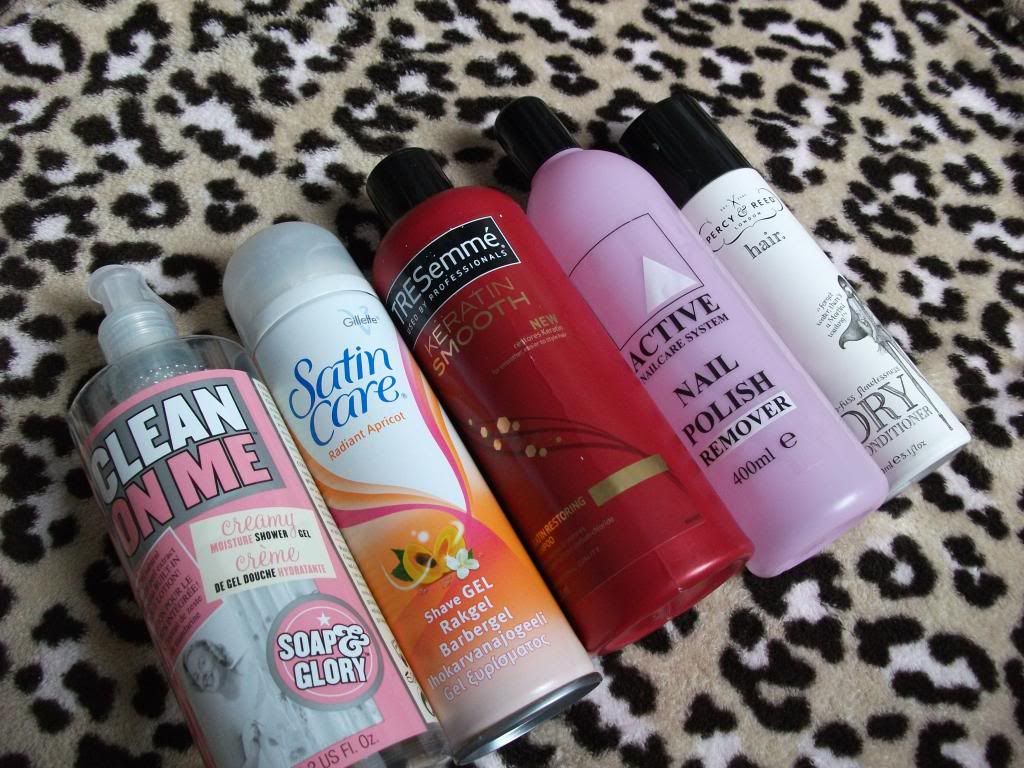 Soap & Glory Clean On Me
This was one of the products in the
Best of All
set I got just before Christmas, and I've gone through this bottle so fast I didn't get round to reviewing it in full. I've read so many rave reviews on this but I wasn't overly impressed; it smells nice but the ingredients aren't great and I think, for what it is, it's quite expensive. I'd use this again if it came in a set, but I don't think I'd seek it out myself.
Repurchase? Probably not.
Gillette Satin Care Radiant Apricot Shave Gel This featured in last month's Empties, it's one of life's essentials really. There's not much else to say, I get through about a can per month and tend to stock up when it's on offer - I recently found it in Bodycare for £1.99 so bought a few cans then.
Repurchase? Yes.
Tresemmé Keratin Smooth Shampoo
I didn't feel like this shampoo really did anything for me above and beyond what I got from the conditioner and the Deep Treatment Masque; added to the fact that it contains SLS, which I'm trying to cut out, and it's probably not one I'll buy again. It did its job but it's not the best shampoo I've ever used, and I did need to shampoo twice for my hair to feel properly clean.
Repurchase? No.
Nail Polish Remover
There's not an awful lot to say about this really, it was just a cheap bottle of nail polish remover from Bodycare a couple of years ago - although I paint my nails usually at least three or four times a week, I don't seem to go through remover very quickly! This was effective in removing nail polish and even got rid of glitter with a minute or two soaking.
Repurchase? Probably not, purely because I just buy whatever remover is available. I already had a spare bottle in the cupboard, so that'll keep me going a while!
Percy & Reed No Fuss Flawlessness Dry Conditioner
I bought this aaages ago through sheer curiosity and hated it. I've eventually got it finished, but I don't hate it any less. First of all, it's not a "dry" conditioner like a dry shampoo; you don't need water, but it definitely comes out of the can wet. Secondly, the SMELL. Oh my God. Don't breathe near this! Thirdly, the mess; you'd expect this to be a pretty fuss-free product (given its name and all...) but I found it impossible to spray this on my hair without getting it on my skin/clothes/the walls, where it left weird white blobs. And finally, I think it's massively overpriced for what is, essentially, a leave-in conditioner. I've got a Schwarzkopf one that's just as good (and far less messy, and much nicer-smelling) for a third of the price.
Repurchase? Not on your nelly.
Tresemm
é Keratin Smooth Deep Treatment Masque It's not the first time this product has featured in my Empties and it won't be the last, because I love it! I alternate between this and my Macadamia Masque but honestly I don't think there's much between them, despite the massive price difference. I stocked up on this when Boots had a Tresemm
é offer on a while back, so I have another pot to go at.
Repurchase?
Already have.
Soap & Glory Sugar Crush Body Scrub
Another Soap & Glory product I never got round to reviewing. I'm on the fence about this one; sometimes I love the fresh, citrussy scent, and sometimes it's just too much for me. That aside, it's a nice scrubby scrub and did what it said on the tub. I'd just like to reiterate what they say about not using on damaged or freshly shaved skin - my God it
stings!
Repurchase? Probably not; there are other S&G scrubs I prefer.
The Body Shop Almond Body Butter I absolutely love this, it's so thick and moisturising, I have to wait a few minutes for it to soak into my skin but it smells like marzipan so I don't care! I got this in the 70% sale in January so it cost me about £4, it's more than I can justify spending at full price but on those kinds of reductions, I just can't say no!
Repurchase? Yes, but not full price. I'll probably buy a few next time there's a good sale, now I know how much I love it.
No7 Time Resisting Day Cream
This was part of a gift set I received a couple of Christmases back, and has largely been ignored due to the anti-aging aspect; I associate anti-aging products with thick, heavy creams - not what I want for my oily skin. Nonetheless, I gave this a go, mostly to get rid of it to be honest, and I've found it makes quite a good base for make-up, didn't break me out and hasn't made my skin any oilier. All in all, this is a nice moisturiser and something I'd look at buying a full-size of in a few years. One thing I HATED was the pot it was in - it seems so un-hygienic and it's damned near impossible to get all the product out because it's a ridiculous shape!
Repurchase? Maybe - if the full-size comes in a better container.
Liz Earle Exfoliator I'm not really sure where this sample-sized product came from but I used it to plug the gap between running out of my previous exfoliator, and purchasing a new one. First things first, the smell; it's an extremely strong botanical smell and whilst I know some bloggers love the scent of Liz Earle products, it really puts me off. It's not unpleasant as such, just overwhelming. That aside, this is quite a nice exfoliator, a nice thick cream with reasonable scrubby-ness.
Repurchase? No, because of the smell and it being so far out of my budget.
Aapri Exfoliating Scrub Cream
I'm totally gutted to have finished this as I can't find it in my local Poundland anymore and I really did love it - it's so hard to find exfoliators that are "scrubby" enough for my dull, oily skin, but this was perfect. That said, I'm taking it as an opportunity to try out some more chemical rather than physical exfoliators, as scrubbing away at your skin can be horrible aging. 2013 is going so fast that I think that's something I ought to be worrying about!
Repurchase? Sadly not as I can't find it anymore.
What products have you used up this month? Have you tried any of these? What were your thoughts?
xo