Since it's almost Easter, I thought I'd have a go at a spot of nail art. I started off with two coats of Barry M 'Strawberry Ice Cream', then used an Allura Nail Stamping Kit with the plate P32 to stamp "Easter Egg" designs onto all nails except my thumbs. I think P32 is meant to be pretty French tip designs, but it worked well for stripey Easter eggs too! This is the first time I've used a stamping kit but I got the hang of it quite quickly, and it wasn't too difficult to do on my right hand as well. I started on my ring finger and you can see I didn't scrape enough polish off the plate, but I quickly corrected that and I'm pretty happy with how the others turned out. I stamped using Essie's 'Tour de Finance', and topped off with a coat of Models Own 3-in-1 topcoat.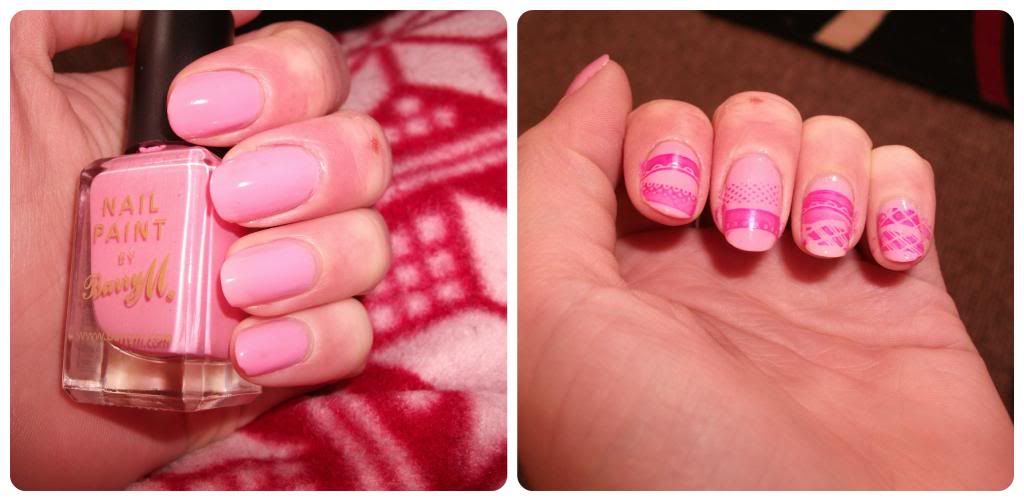 I then drew the Easter Bunnies onto my thumbs, freehand. I started by drawing a circle in white using my Models Own Nail Art Pen, then added two stripes for ears using the striping brush. After this had dried, I added in eyes, nose and mouth with my black Nail Art Pen, and finished off with a swipe of pink down the middle of each ear, using my pink Nail Art Pen. Again, I sealed it with a coat of Models Own topcoat.

What do you think? Will you be attempting any Easter nail art? Have you ever used a stamping kit? I think I'll pop up a little review of the three kits I picked up, and a quick tutorial on how to use them, so keep your eyes open for that!
xo