I purchased Soap & Glory's Show Good Face foundation
a couple of weeks back
, and promised a review; here it is! I chose the shade 'The Fairest of Them All' which is, as the name suggests, the lightest shade available. Marketed as a 2-in-1 Foundation and Primer, this instantly aroused both my interest and my suspicion, as I would always rather a product do one thing properly than lots of things badly! This claims to give a dewy, bright, flawless finish, as well as providing SPF 15 protection, which is always a good thing to have in your foundation.
I really like the outer packaging of this foundation; like all of Soap & Glory's packaging, it features vintage imagery and clever punnery, as well as providing a decent amount of information about the product. "Soap & Glory's amazing new Lightscramble Luminosphere technology mixes mega light-diffusing powders with high-tech encapsulated soft-focusing pearls and leaves the wearer looking candle-lit and camera ready. It's literally a bit of a blur. Lovely!"
Inside the cardboard packaging is a black plastic tube with pink lettering and a screw cap, which unscrews to reveal a precise plastic nozzle. I found this made it really easy to apply just as much product as you needed and is great for dotting straight onto the face to apply with your fingers; alternatively, you can squeeze onto the back of your hand and apply from there with a brush, which is what I tend to do with my Real Techniques Expert Face Brush. Without primer, it takes quite a bit of buffing to get a finish without brushstrokes in, but over primer I didn't find this to be a problem.
The image below shows Show Good Face alone on my face - I didn't use a primer for this photo, and haven't added any concealer or powder. You can see it's a pretty good match for my skintone, and provides a reasonable level of coverage - blemishes do need covering up properly with concealer, but it's great at evening out and brightening your skin tone, and it definitely does disguise blemishes - just not completely. As for the Primer claim - I think it depends entirely on what you'd use a primer for. Whilst it's better than some foundations in terms of hiding enlarged pores, I'd still tend to use your normal primer if this is a problem for you as it is by no means flawless. Similarly, with my oily skin, I definitely need to use a mattifying primer (and plenty of powder) to give this even a chance of lasting the day. I don't suffer from redness but again, I'd expect that if you use a specific product to combat this, you'd be best continuing to use it under this foundation. In short, I can see some benefits compared to a standard foundation, but not enough to allow me to skip the Primer step on a daily basis. It's dewy and brightening but unfortunately not quite flawless! I don't think it's something I'd repurchase purely because I feel I can find products which perform equally well for me, at a much lower price - this is towards the higher end of drugstore foundation prices, and I don't think it performs well enough to warrant it. That said, it is a perfectly nice foundation, so I wouldn't rule out repurchasing.
I've also got a quick FOTD using Show Good Face over my favourite primer, The Body Shop's Tea Tree Pore Minimiser. I also used NARS 'Douceur' blusher, which I won in a giveaway and posted about recently - I really love the subtle colouring it gives me. The red lip is a little outside my comfort zone and I admit I didn't leave the house wearing this, but paired with a neutral eye from the Urban Decay Naked Basics palette, I think this works quite well for me!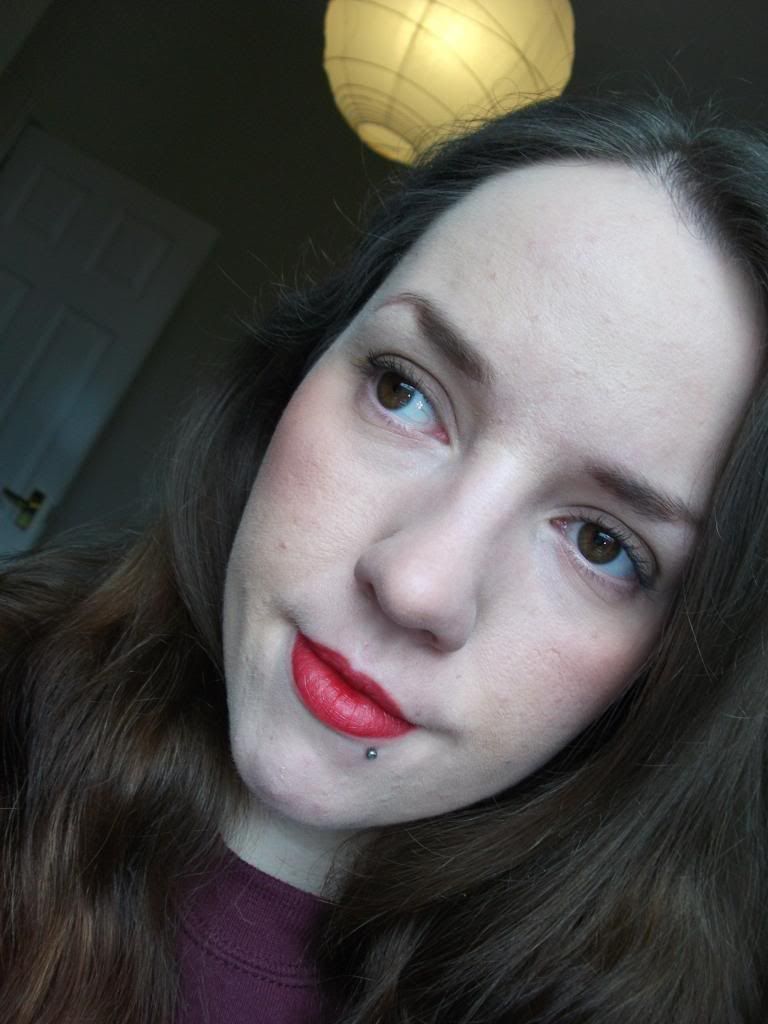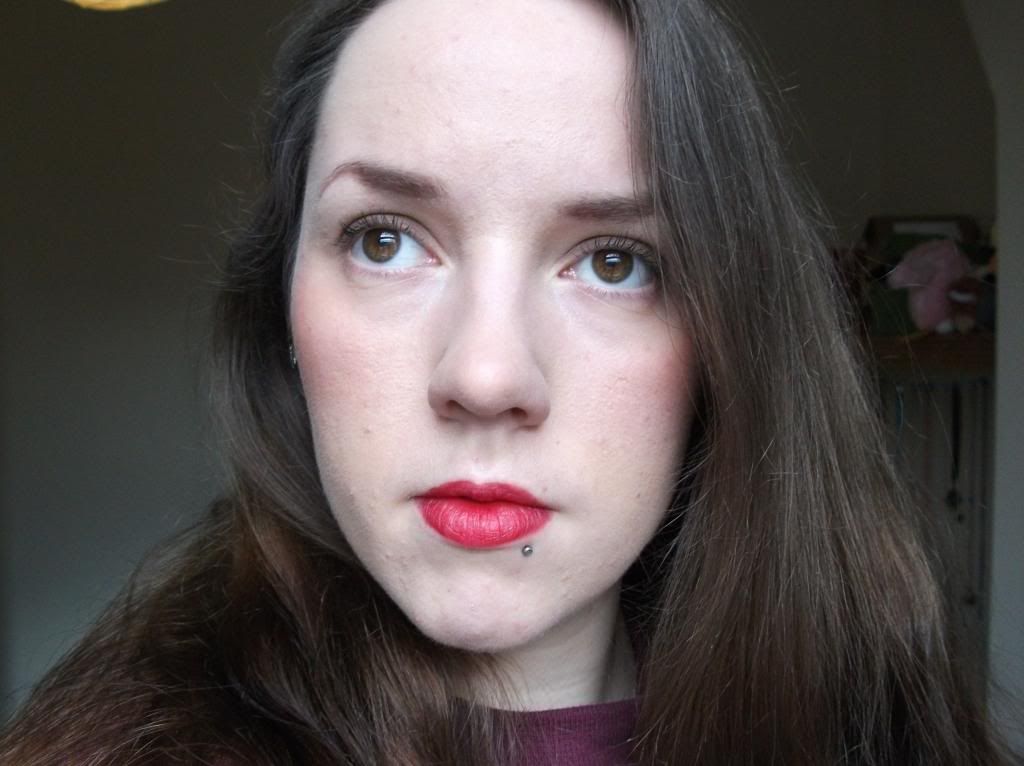 Show Good Face Foundation
is available from Boots in-store or online, priced at £11 for 30ml. Have you tried this foundation? Are you a fan of Soap & Glory's cosmetics line?
xo