My review of Tresemmé's Keratin Smooth Deep Treatment Masque is one of my most popular posts of all time, so I thought it was about time I got up a review for the Shampoo & Conditioner from the Keratin Smooth range! I've been using this duo for a couple of months now and have got on pretty well with them; presented in the standard Tresemmé plastic bottles with snap-cap dispensers, these are easy to use with wet hands and make getting a decent amount of product out fairly easy.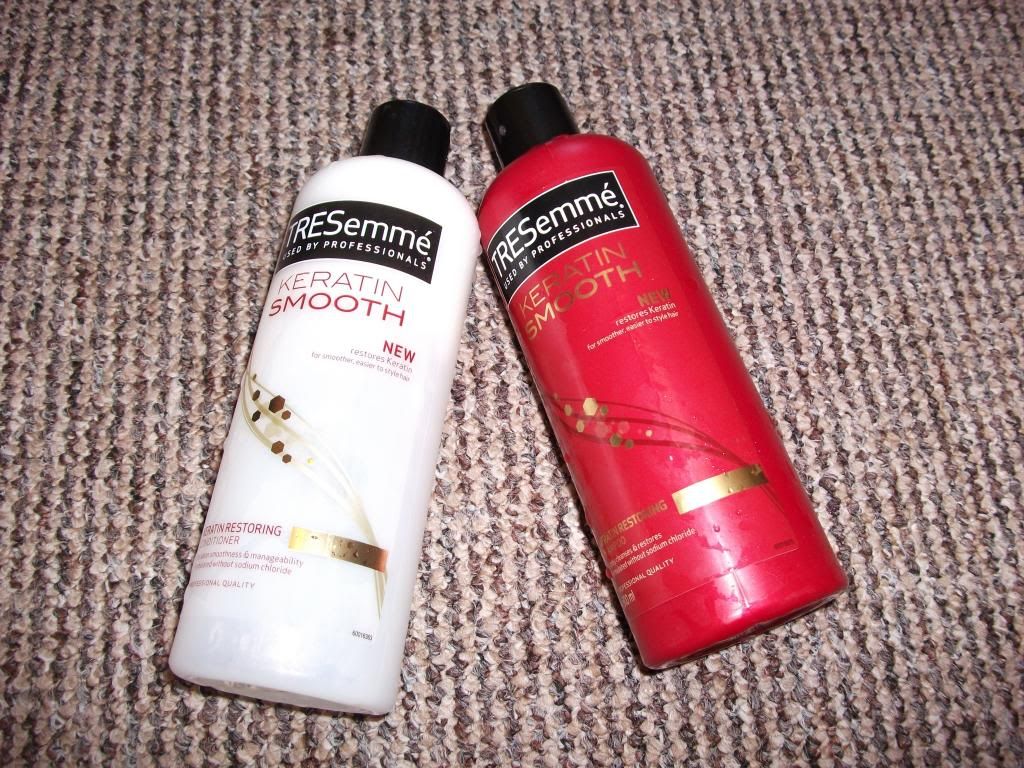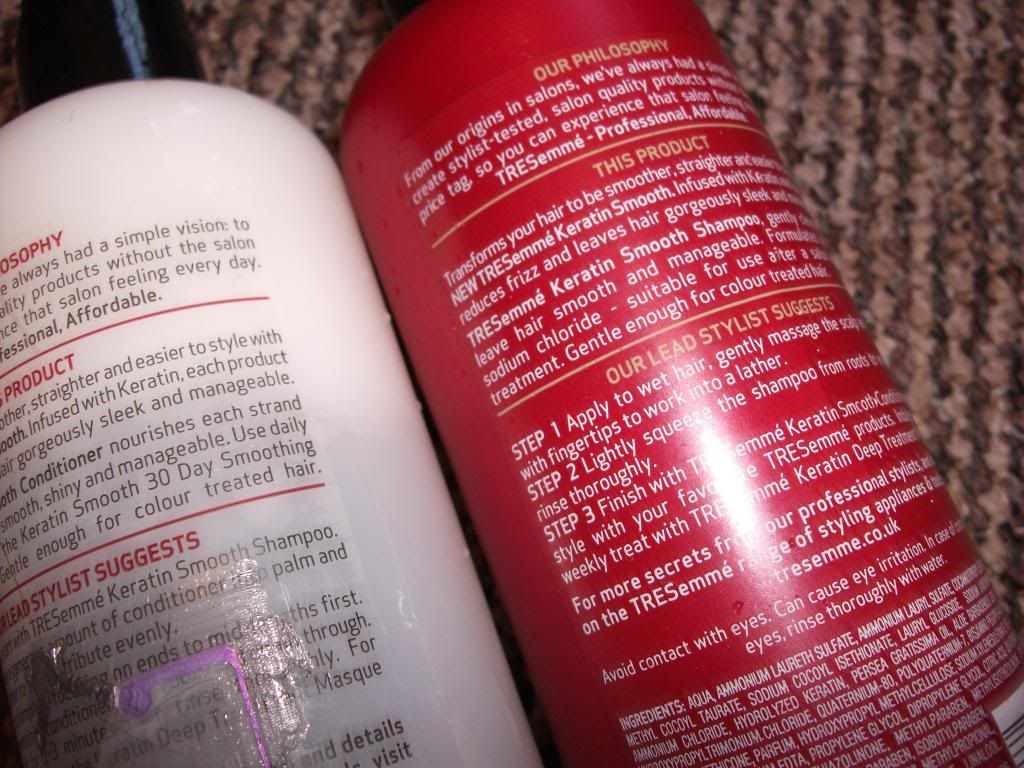 L-R in bottom photo: Shampoo & Conditioner
"
Want hair that's smoother, straighter and easier to style? Use Tresemme Keratin Smooth Infusing Shampoo, specifically formulated to leave your hair gorgeously sleek and manageable.
"
The shampoo is a pearlescent, white colour with no strong scent, which lathers well in the hair. I don't find that one use is enough to leave my hair feeling clean, though, so I tend to shampoo twice each time I wash my hair. I don't mind this except that it means I get through shampoo a lot faster than I do conditioner. That aside, I have to say I'm not massively impressed with this shampoo; I don't feel it makes any difference to my hair above what the Conditioner and Masque are doing for me. In addition, the shampoo contains SLS, which I'm trying to cut out at the moment to help my eczema.
"
Tresemme Keratin Smooth Restoring salon-quality conditioner nourishes each strand to leave hair smooth, shiny and manageable.
"
The conditioner is another story - a thick, white product, again with no real scent, this spreads really easily through the hair. I tend to apply to the bottom third of my hair, then run my hands through the middle third, avoiding the roots. I leave this on for a couple of minutes before rinsing thoroughly. Unlike the shampoo, I do feel like this adds to the Masque, leaving my hair soft and smooth after every wash and maintaining the work done by the Masque, which I use once a week.
Overall, the conditioner is a product I'd consider repurchasing in future, although the shampoo didn't wow me, as well as containing SLS, so I'd probably pair the conditioner with a different shampoo. Neither of the products compares to my love for the Deep Treatment Masque, however, which I'm still using religiously once a week. Maybe I'd have noticed more of a difference from the shampoo and conditioner if I'd not already been using the Masque, but for me they're not essential - just a nice extra.
Tresemmé Keratin Smooth shampoo and conditioner retail at £4.99 each for 500ml, and are available from a range of retailers - Boots and Superdrug often have good offers on them, so they're definitely worth checking out!
Have you tried the Keratin Smooth range from Tresemmé? Do you like to use matching shampoo or conditioner, or do you prefer to mix and match different ranges? The Heat Protecting Shine Spray is next on my list of products from the range to try!!
xo