I spotted this little blog challenge over on Jess's blog,
Lovely Jubbly
, and thought I'd give it a go as a way of sharing a bit more about myself, since my 25 Facts post was quite popular and this is the sort of post I love to read on other blogs! If you'd like to complete the challenge, help yourself to the photo and leave me a link!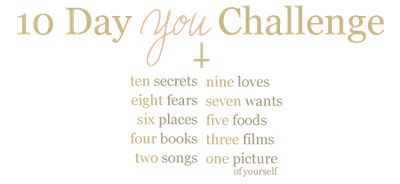 1. I have a bit of a habit of self-sabotage; leaving things to the last minute, not revising for exams, putting off taking CVs in after seeing jobs I know I'd love. I'm not sure why I do it, but I'm working hard to overcome it.
2. I didn't have my first boyfriend til the age of 16, after my Mum had all but given up on me, I think. She spent quite a few years trying to set me up with a range of my brother's older friends, but I just wasn't interested in having a boyfriend for the sake of it, and was embarrassed by the whole thing (as was my brother. And his friends.)
3. I have a bit of a thing for Gordon Ramsay. I love him!
4. When I was at Primary School, I was massively in love with a boy in my year. One day in PE, we were playing rounders and I missed a throw to the bowler, so he told me to throw it to him next time as he was closer. The next time I caught the ball, I threw it straight to him... And bounced it off the back of his head because he wasn't even looking at me! My teacher told my mum because my aim was (and is!) so bad, I couldn't have done it if I'd tried, and my mum still mentions it - to be fair, it was hilarious!
5. I have been known to eat whole packets of Jaffa Cakes in one sitting - that's packets, plural, not just one...
6. I'm really flexible and I can put my legs behind my head. It runs in my family, my brother can do it too, and it's actually really annoying if I get cramp in my calves or thighs, because it's almost impossible to stretch my muscles far enough to stretch them out!
7. I never used to take the nail polish off my toes - I literally used to just paint over it with a really thick coat, until it was thick enough that it just sort of chipped off of its own accord. That's really gross!
8. I am absolutely, completely terrified of childbirth. I'm fine watching it, hearing about it, fine with other people doing it, but when I have children I'll be having C sections. I'm not sure if it's to do with the fact my mum was in labour with me for three days before having an emergency C section or what, but the thought of giving birth makes me so anxious. Not happening.
9. Although my dream is to work in Neuroscience, I'd be equally happy to be a stay-at-home mum and housewife. I know it's not cool and my friends tell me I'm anti-feminist, but I just love cooking, baking, cleaning, and children.
10. My blog is a secret! I've not told anyone I know in "real life" about it - not even my mum or my boyfriend. I'm not really sure why, I think I'm just protective of it!
If you've already completed this challenge, or plan to, let me know so I can come and have a read! Do you have any deep dark secrets?
xo