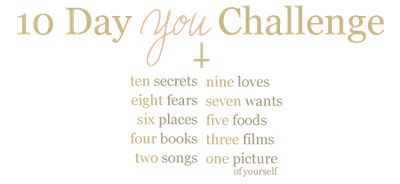 Like
Jess
, I wasn't sure whether this is meant to be things I'm scared of in everyday life, or fears for the future, so I went with a bit of a mix of both. Have a peek at my
Ten Secrets
and
Nine Loves
posts, if you enjoy getting to know me a little better!
1. I have a really weird thing about the texture of food. I can't stand slimy, lumpy, or squishy things. Custard, mousse, and jelly all creep me out; I also can't stand the skin you get on milk, it gives me shivers thinking about it. Blergh!
2. I sometimes get really claustrophobic; I actually don't mind small spaces at all, and love caving, but places like train stations and trains can really freak me out, especially if I'm tired or stressed anyway. It depends a lot on my state of mind, because I've never had a problem at concerts even when I'm in the front row at McFly.
3. I'm absolutely terrified of losing my mind; it sounds silly, but I can't imagine not having control over myself or not being who I am. It probably has a lot to do with having studied Psychology for five years, but I definitely come out as an introvert on the test of would you rather be alone and sane, or with lots of people but lose your mind? I'd rather have my mental faculties and be on my own, any day!
4. I have this weird fear that I'm not going to be able to have children, which would tear me apart. For years, I said I'd never have kids, and all of a sudden something changed and I really, really can't wait to be a mummy. The fact that my boyfriend has two gorgeous daughters doesn't help my broodiness, and the thought of being told I can't have children makes me feel ill. I don't know how I'd cope!
5. I have a problem with balloons, mostly the fear of them bursting. I have no idea where this came from, because I was fine with them as a child, and I have no problem with sudden loud noises, but I get really edgy when people are throwing balloons around etc. This becomes a problem at parties, especially because drunk people seem to think it's hilarious to throw balloons at people who are scared of them...
6. I also developed a fear of clowns some time between childhood and now - never used to have a problem with them but now I find them really creepy. I'll be great at children's parties! I went to the circus a couple of years ago with my housemates and they had clowns having custard fights... It was like my worst nightmare, I hid behind my hoodie!
7. On a similar theme, I actually find Moomins quite creepy. I'm not sure why.
8. I've struggled to come up with a last fear, but realised I have a weird thing about losing my belongings. I'm constantly feeling my pocket to check my phone and keys are still there, I check in my bag repeatedly to make sure my purse is where I left it. It's not necessarily a bad thing because I've never lost a phone, purse, or my keys, but I'm a little obsessive about it..
What are you scared of? Any tips for overcoming trivial fears like custard?!
xo