I've posted about Accessorize Nail Speckle Polish before (see my
NOTD featuring 'Leopard Moth'
), and today I have a pretty little Spring-perfect manicure featuring '
Dragonfly
', a green base containing tons of small purple hex glitter. I decided that to try and avoid over-layering the glitter, I'd just use one coat of the Speckle over a similar-coloured base shade; the photos show one coat of 'Dragonfly' over one coat of Models Own '
Jade Stone
', which is fast becoming my most-used polish - I love it! It's by no means a perfect colour match but it worked well enough that I only needed one coat of 'Dragonfly' so the glitter didn't get covered up by subsequent coats. This applied reasonably nicely, with the glitter spacing itself fairly well, and dried quickly to a semi-matte finish. A coat of topcoat smoothes it off nicely, or you can leave it like I did for a slightly rough finish. One thing to bear in mind is that this chips really quickly without topcoat, so if you plan to wear it for more than a day or so then it's worth doing!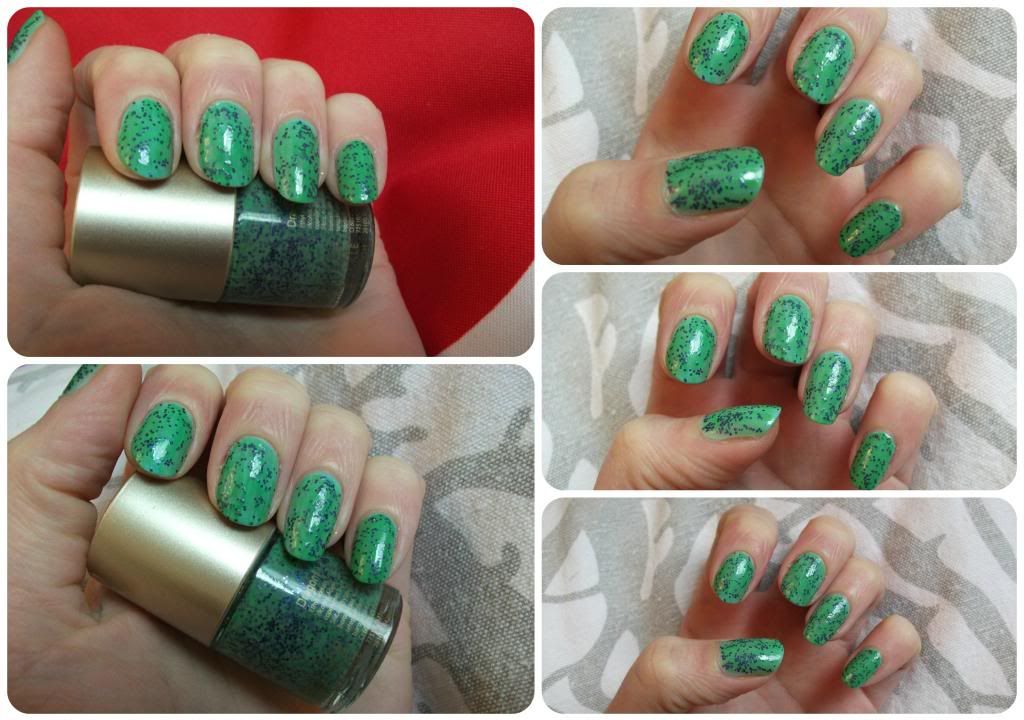 I really like this polish, it's a lovely Spring colour and adds something a little different to your nails. The colours do remind me of a green and purple dragonfly, although I think the name would be better suited to a multichrome polish rather than the Speckle range. Nonetheless, this is a lovely polish!
Accessorize polishes
are available from Superdrug, priced at £3.45 for 10ml.
Do you own any of the Speckle polishes? I have a couple more to share in the coming weeks, so keep your eyes peeled if you like the look of this one!
xo