This review brings me up to date (at long last!) with the stash of face masks
Montagne Jeunesse
kindly sent me to review quite a while back now. I'd saved this one til last because I wasn't really sure about it; in honesty, I thought it was the
Passion Peel-Off
and knew I hadn't been overly keen on that one, so I was pleasantly surprised when I came to use it and found it was something else entirely;
Very Berry Ultra Moisturising and Cleansing Face Masque
.
"
Bursting with the juice of pressed blueberries and crushed cranberries, our fruity beauty is packed with antioxidants. Nourishing Peach Kernel Oil and soothing Aloe Vera will leave your skin refreshed and cleansed.
"
As I opened this, I got a little bit over-excited by the sparkly purple cream - it's super pretty and one of the few Montagne Jeunesse face masks I've tried where I feel like the photo on the sachet isn't completely misleading. It smelled lovely, too, a gorgeous fruity scent. The mask spread nicely over my face and, as it dried, it hardened slightly - not like a mud or clay mask where it gets tight and uncomfortable, but from a cream to a harder cream. I left it about 15 minutes before washing off with plenty of warm water. I found my skin was left feeling really soft and hydrated, and looking really bright and alive. This is definitely a mask I'd recommend using before a special event; I didn't notice any "ultra cleansing" but the moisturising claim was more than met and for that reason, I really liked this mask. Especially given our temperamental weather of late in the UK, this was just what my skin needed!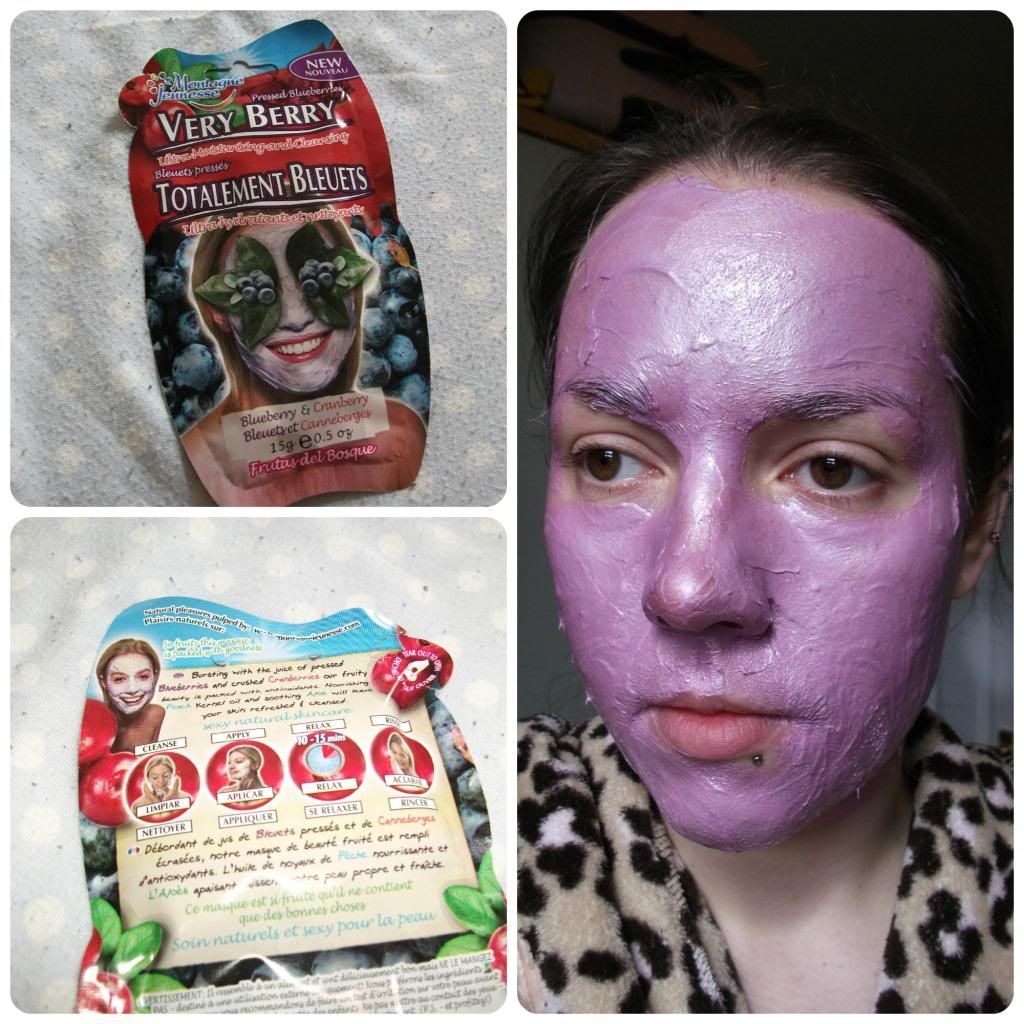 Priced at £1.09 for a sachet (one application), Montagne Jeunesse Very Berry Face Masque is available direct from the
Montagne Jeunesse website
, or from Asda and other large retailers. Like all Montagne Jeunesse products, this mask is BUAV-approved, suitable for vegetarians, and uses natural ingredients wherever possible, something which is becoming more important to me as I realise how much my skin hates certain chemicals! I really liked this masque, it's definitely one of my favourites from the Montagne Jeunesse line, and one I'll repurchase myself.
xo
(Please note, this product was sent to me for consideration. This does not in any way affect my review; as always, I've given my full and honest opinion.)