On the hunt for a shampoo which didn't contain SLS, in an effort to help my eczema, this was the best I found my local Boots had to offer. After a quick browse through the range, I went for the Smooth Silky Shampoo & Conditioner for long/straight hair, as my hair is most definitely in the long category. Naked products are free of sulphates, parabens and petrochemicals, and are suitable for vegetarians (but not vegans!).
"
Keeping hair kink free can be high maintenance. So we use highly moisturising and smoothing aloe vera and marshmallow plant extracts to add weight and gloss to the hair shaft, helping prevent the kinks and annoying flyaways that can stop your hair looking gorgeously sleek. Because your hair deserves the kindest treatment of all, we don't use harsh detergents - only gentle plant-based cleansing ingredients, creating long-term moisture so you get to hang straight. To use: Apply to thoroughly wet hair for a feather-soft lather. Rinse really well and repeat if necessary (you will achieve a better foam second time around). For best results follow with
Naked Smooth Silky Conditioner."
I like the shampoo packaging; it's easy to see how much is left, and the press-style lid makes it easy to open in the shower with wet hands - great for me as I'm forever dropping shampoo bottles on my feet and it really hurts! It smells absolutely lovely, citrussy and fresh, which is just what I need to wake me up in the morning. Given what I've read about SLS-free products, I wasn't expecting this to lather very well; that actually hasn't been a problem, and it produces plenty of bubbles. I have struggled, however, with getting it to work through my hair, and once I've rinsed my hair doesn't feel clean. Even after shampooing twice or even three times on one occasion, my hair feels slightly greasy. This impression lasts after drying my hair; it doesn't quite look clean, it feels like there's product build-up going on, and I struggle to go two days between washes. I do have quite an oily scalp so I have had this problem with other shampoos in the past, but sadly this shampoo is not for me; I'm going to try some other Naked shampoos as I suspect this is just too heavy for me, with its anti-frizz properties.
"
We use Jojoba Oil because it's a super rich, deeply conditioning liquid wax that coats the hair shaft to help reduce frizz and give hair the appearance of satin sheets. Using plant-based conditioning ingredients, this effective formulation reforms rebellious hair, getting it back on the straight and narrow by creating long-term moisturisation and reduced static without the heaviness of petrochemical residue build-up. To Use: After washing, squeeze out excess water. Massage evenly through the hair for a minute or two, then rinse away. Gently combing through will help tackle any tangles before rinsing off. For even better results, finish with
Naked Style Frizz Fighter Smoothing Serum."
The conditioner comes in a flip-cap squeezy tube rather than a bottle, and I feel that the aperture is too small for the consistency of the conditioner; it's really quite hard to squeeze it out! This has a similar scent to the shampoo, which I really like, and is easy to work into the ends of my hair. It does a great job of untangling and leaves my hair relatively soft and smooth. The conditioner is a winner, and since I haven't gone through it anywhere near as fast as the shampoo, I still have about three-quarters of a tube left (although it's hard to tell as the tube is opaque - yes, another packaging moan).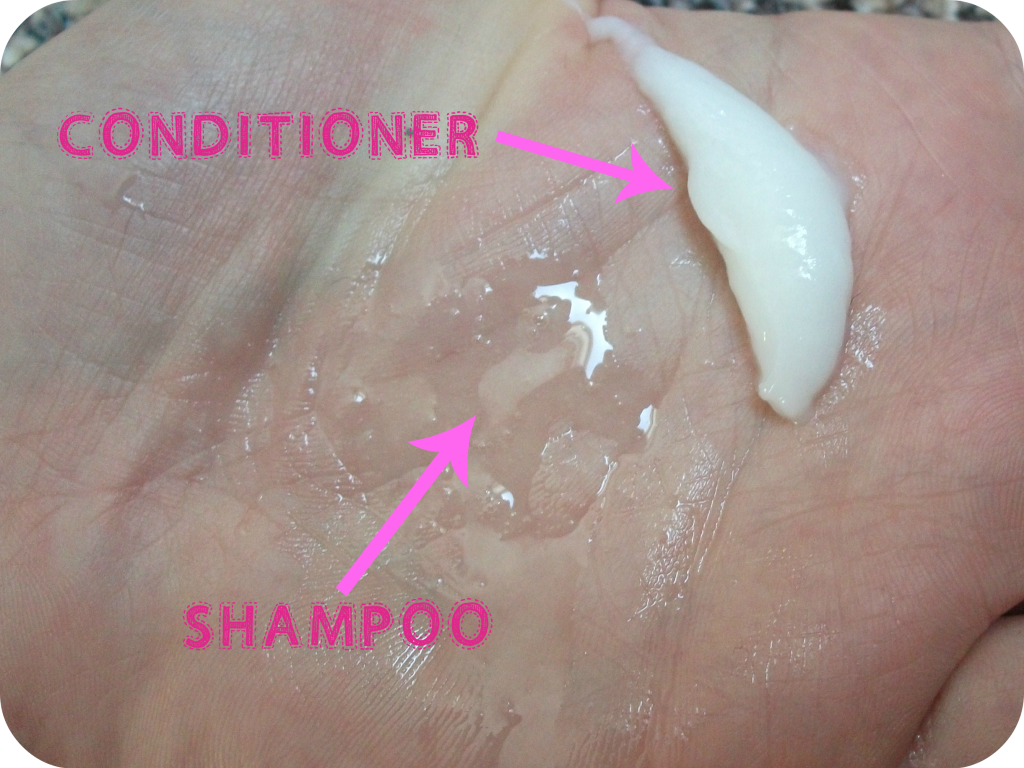 The good news is that switching to SLS-free shampoo and body wash seems to have completely cleared up the eczema I had in my elbows and the backs of my knees, and even my hands are feeling much better, so I'll be looking at some other options and hoping they're as good for my skin! Overall, this duo has suited my skin well but sadly the shampoo just doesn't work with my hair type. I'd recommend it if you're looking for SLS-free products and don't have an oily scalp, but if your hair goes greasy quickly then give it a miss!
Have you tried Naked products? Can you recommend a good SLS-free shampoo for oilier scalps?
xo