This was yet another of the products I got in the
Best of All
set I purchased back in December, and I immediately fell in love with the delicious, almost edible scent; described as Almond, Oats and Brown Sugar, to me it smells like flapjack!
"
A strictly A-List mix of dewy deliciousness, it's nothing short of a Smoothie Star! Deep Moisture Body Milk featuring Waterlock moisture trapping matrix. Rub shoulders (and knees and shins) with the elite: Massage in a handful of Smoothie Star Body Milk from shoulders to toes after your shower every morning. (Should you hit a particularly rough patch, feel free to dew it again.)
"
I really like the packaging; the clear bottle means you can see at a glance how much product is left, and the hygienic pump makes it easy to dispense with wet hands. I tend to use about four pumps on each leg, and another four or five on my arms and upper body; the Body Milk sinks into the skin quickly and easily, leaving it soft but not sticky or greasy. It's not the most moisturising product I've ever used, leading me to skip it on super-dry-skin days in favour of my trusty Body Shop Body Butters, but generally speaking it's a lovely moisturiser which leaves a lovely lingering scent on the skin all day. Overall, this is a winner for me; looks pretty in my bathroom, moisturised nicely and smells utterly delectable!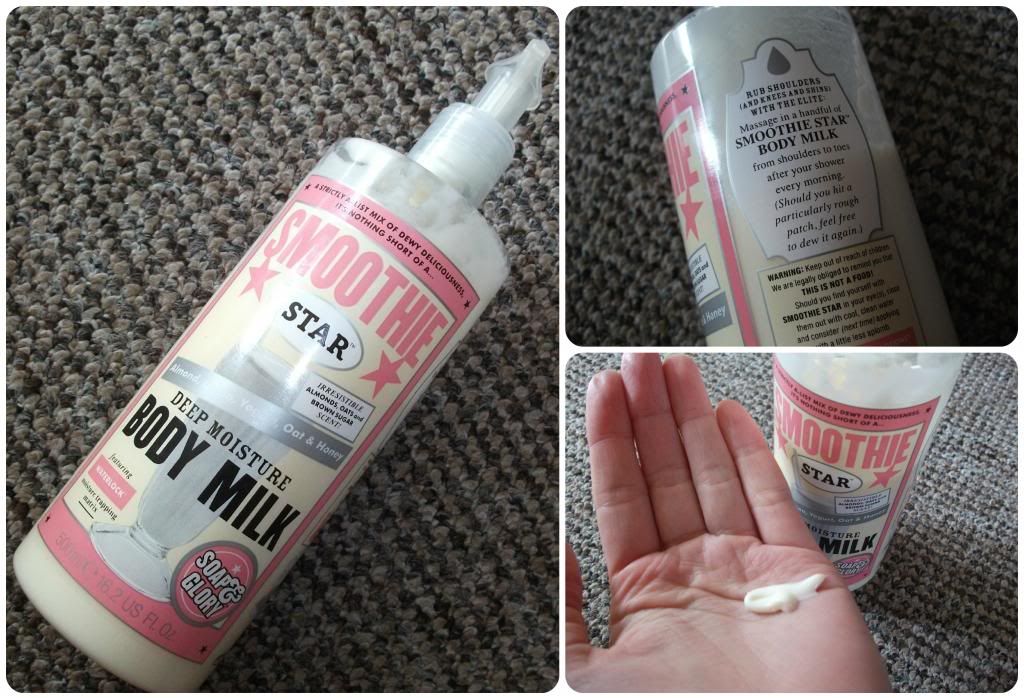 Smoothie Star is available from Boots
, priced at £10 for 500ml; I don't think that's a bad price given how long it's lasted me so far, and this is definitely one of my favourite products from the Best of All Set!
Have you tried Smoothie Star? What's your favourite Soap & Glory moisturiser?
xo