To celebrate the thirtieth anniversary of the pound coin,
Money Supermarket
are challenging bloggers to come up with some tips to save money; specifically, thirty ways to save a pound! Saving money is something of a hobby for me, so I didn't think coming up with thirty tips would be too difficult, and thought I'd put together a post. Since Just Jess is a lifestyle blog, I've gone for a range of ways to tighten your purse-strings, so there should be something everyone can try, from beauty to grocery shopping to raising children!
1. If you're a student, use your status to its full potential potential! I'm pretty sure my
NUS card
is worth several times its weight in gold, saving me pennies every time I shop in Superdrug, New Look, Topshop, Accessorize, and a whole load of other shops. It also entitles me to student fares on the bus, student tickets at the cinema, and Concession entry at a host of museums and attractions.
2. Loyalty cards are your friends. When you think about it, getting points from things you're buying anyway means you're pretty much obliged to treat yourself with the points you accumulate! Boots, Superdrug, Costa Coffee, Waterstones... Keep them in your purse and watch how quickly your points stack up.
3. Related to the previous tip, make sure your contact details are up to date, as some loyalty cards send you vouchers for money off or extra points through the post or via email. It's also worth checking the points kiosk in Boots before making any purchases, as they also often offer money off or additional points on items you buy regularly.
4. When getting a coffee with your loyalty card, switch to a small - the size of a large coffee is absurd, no-one needs that much coffee! Buying a small will save you some pennies and help your waistline, too.
5. Check your direct debits. Are you paying out money each month for services you don't want or use? If so, cancel them!
6. Take advantage of schemes such as
Back to MAC
and
Lush's Black Pots Return
, which accept your empty packaging in return for a shiny new product! If you're buying these things anyway, it's worth saving the packaging until you have five or six and can swap them for a lipstick or facemask of your choice.
7. Try not to be drawn in by 3 for 2 offers; I know they're lethal to all women and to beauty bloggers in particular, but try to think clearly! Stocking up on essentials like dry shampoo, cotton pads and make-up remover while they're on offer is one thing; buying three lipsticks when you really only need one is not saving you money, however you try and think about it.
8. Carry a shopping bag in your handbag; many shops have started charging for plastic bags now, so popping to the shop on your way home from work can end up costing more than you planned! By carrying a reusable shopping bag, you're always prepared and you're helping the environment - bonus!
9. Never go shopping without a list, you're just asking for impulse buys and overspending. Decide what you need and buy it.
10. Look carefully at special offers in supermarkets; 2 for £3 is great if one product costs £2.50, less great if it's £1.50. Think about whether you'd use two before they go off, as well; there's no point spending the extra 50p to then throw one away because it's out of date.
11. Use a penny jar and periodically empty your small change into it. I have a giant piggybank and empty everything smaller than a 50p from my purse into it at least once a week. Change from pockets when I'm doing the washing also goes in here! It's surprising how quickly it adds up and you can either use it for bus fares and buying a pint of milk from the shop, or take it to your bank to use one of the change-counting machines (am I allowed to say they're dead good fun, too?!)
12. When going out with children, remember that they get hungry and thirsty and have accidents. Carry drinks, snacks, and clean clothing, especially around potty-training age, to avoid unexpectedly having to purchase new outfits whilst out and about!
13. Buy a Railcard if you're eligible. Given that my train fare would be £30/day when commuting, it's well worth me having a railcard as it saves me £10 per journey; mine was free as a perk of my student account, but even if I'd bought it, at £28 I'd have made it back in three trips.
14. Don't be scared to ask for samples! If you're looking at spending £30 on foundation, you want to be sure it's the right shade, so ask a counter assistant to shade-match you and request a sample to take away so you can check it in natural light.This also allows you to see how well it wears with your skin-type and whether it works with your other products.
15. Use vouchers! I always Google 'discount codes New Look' or 'Vouchers Pizza Hut' if I'm shopping online or eating out. Pizza Hut, for example, often have 50% off vouchers available, so it's always worth checking!
16. Don't use your credit card in cash machines - there's no need for you to pay the ridiculous charges. If you need cash, ask for cashback when making a purchase, or ideally use your debit card instead.
17. On the topic of credit cards, try not to treat yours like extra cash. Having one for emergencies is great, but it's not an extra £500 a month to spend - this is a surefire way to get yourself into mountains of debt. Try not to spend anymore on it than you can afford to pay back IN FULL the next month - this way, you don't pay any interest on it.
18. Make sure you're using the best bank accounts. Some offer incentives if you pay in over a certain amount per month, or even for switching to them.
19. If you don't pay tax, then register your savings accounts for gross interest so you don't have to pay tax on the interest, either. You should be able to get a simple form from your bank or building society to do this! Remember to inform them when you start paying tax, though, to avoid getting hit with tax fraud fines.
20. As a blogger, this is an obvious one; if you're considering a big purchase, read reviews of the product first! If people with your skin-type/body shape have had problems with the product, you might be wasting your money, too. It's always good to be informed!
Makeup Alley
is great for this.
21. Interact with brands on Facebook and Twitter. Ask for advice. Sometimes, brands will recommend a product and offer you a discount code or voucher if you've not been happy with one of their products. For example, I posted on Naked Bodycare's Facebook Wall linking my review of some of their products, which I'd liked but hadn't suited my hair at all. They very kindly advised me on some products which might suit me better and offered a discount voucher for their website.
22. Use your freezer to its full potential. My boyfriend and I don't get through a full loaf of bread before it goes mouldy, so to avoid throwing half of every loaf away, I just freeze half.
23. Take packed lunches with you to work, school or Uni. You can knock together a sandwich or a salad in five minutes and save yourself two or three pounds compared to buying lunch out; if you have access to a microwave, you could even take leftovers to warm up.
24. Invest in a travel mug which you can fill for your commute, thus avoiding buying coffee en route. Many coffee shops also offer you a small discount for using travel mugs when you buy drinks from them.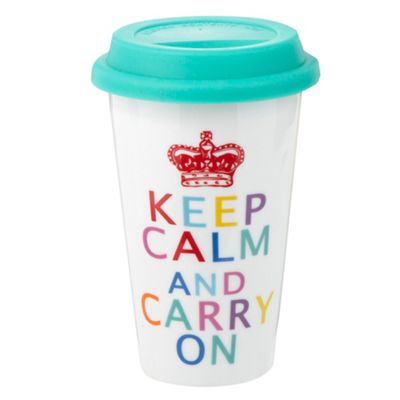 25. Use and abuse Groupon; again, don't use it for the sake of it, but if you need a haircut, have a browse and see if there's something you can use to save yourself a few pounds. It can also be great for gifts.
26. Sites like Buyapowa also allow you to save on the RRP, although you do run the risk of buying things just because they're cheap rather than because it's something you actually need! You can also request co-buys on Buyapowa, so if there's something you're thinking of buying, you might be able to save yourself a little by requesting it first.
27. Don't be scared of discount shops - you can often find branded items in places like Poundland, Home Bargains and Bodycare. There's no reason why you shouldn't take advantage of good prices on products you'd be buying anyway!
28. Grow your own; this is second nature to me as almost all our vegetables were homegrown as a child. With my more limited space (I only have a yard now!) I'm growing tomatoes and pumpkins with my boyfriend's kids, as well as some herbs. Every little helps!
29. Plan your meals for the week before you go shopping; this way, you can buy the things you need and won't end up giving in and ordering takeaway on Thursday night because you can't think of anything to make with mushrooms, ham and yoghurt.
30. Shop around for things like insurance, energy suppliers and foreign currency. It's always best to make sure you're getting the best deal and there's no point paying for extras you don't need when a cheaper, more basic package might suit you better!
Do you do any of these things? What's your top money-saving tip? Please leave me a link if you've done one of these posts, as I'm always up for more ways of saving pennies!
xo