Today's post comes courtesy of Adam from #NOTListeningCollective. Recently, I decided I wanted to try and organise a little Guest Post Swap, so put out some tweets and messages on Facebook, and a fair few people were interested. So we went ahead, and Adam's name came out of the hat to write for me! I'll do a summary of all the posts once they're all posted, so for now I'll pass you over to Adam!
So when this whole Guest post swap idea was passed on to me, I was a little worried. Looking at the types of blogs and bloggers that wanted to do it, seemed very Female and Beauty/Fashion orientated and I felt a bit isolated.....being that I was a minority who didn't have boobs ( well maybe moobs, but they don't count

). So with my recent series of posts about Beauty and fashion from a Male's Perspective (

which pretty much means I have no idea what I'm talking about ) I was asked to write a guest post for the lovely Jess. After a few brief discussions we decided that I should bring my male perspective to this blog. So here it goes.......
......TATTOOS! That's right, the cross gendered ink markings that seem to bring out a unique meaning to every individual. From full on tattoos on the forehead to subtle little butterflies on the ankle, tattoos big and small have different meanings to each person. Some tats mean something close and meaningful to them such as a memory of a dear friend or a celebration to something in their life and some mean something........ well simply a reminder of a drunken night or a messed up time in their life that they now regret.
Now I won't discuss the tattoos that people regret instead I shall discuss about two of my favourite celebs who brandish tattoos with pride.
1) Dita Von Teese
Now the wonderful Dita Von Teese uses tattoos to complement her image. The Seductress, demeaux Burlesque Dancer pulls of the vampy look with a great array of tattoos, Notably along her arms. Now I never use to be a fan of tattoos on women that could be seen, but with the current trends and looks it works and looks incredibly sexy. The entire style of it brings out an edgy look that obviously suits her. I find this kind of look incredibly attractive nowadays and the whole alternative look is pretty awesome in itself.

2) Fearne Cotton
Everyone's favourite Radio and TV Host. Fearne was the first celeb whose tattoos took my attention. Her tattoos are not too out in the open, as she has some subtle ones on her wrist and some really beautiful ones on her ankle.
The ankle ones were the ones that I noticed first. Like I said before I was never a fan of tattoos until I saw these type of tatts on ladies. On the ankles they look gorgeous when they wear heels. The whole tattoo look on Fearne brings out a trend quality to her dress sense that she seems to embrace.
Recently I saw she had more tattoos on her midriff and, thanks to her great figure, it again brings a great quality and look to her style.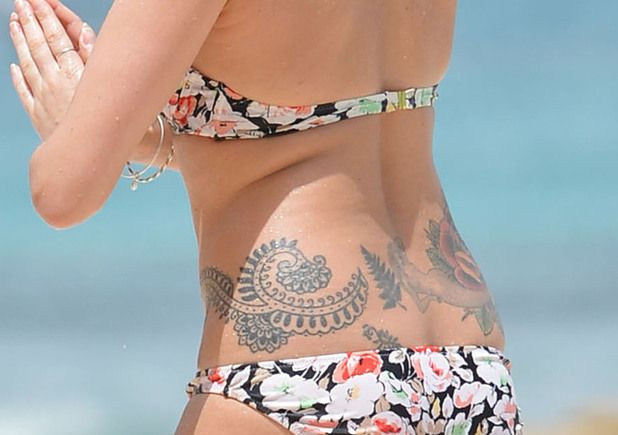 I believe that tattoos are becoming more of a fashion statement nowadays and if done right can really bring out the individual and unique style.
What tattoos have you got? What is too many? Let me know! @BarkerPodcasts
Thank you Adam for this post! Please do go and check out Adam's blog, his Male Perspective posts are really funny and well-written.
It's been lovely to get to know some fellow bloggers through this swap, and I'd love to arrange another in future, so if you're interested let me know and I can add you to the list for when the time comes! Just leave your email in a comment, or drop me a tweet or email.
xo