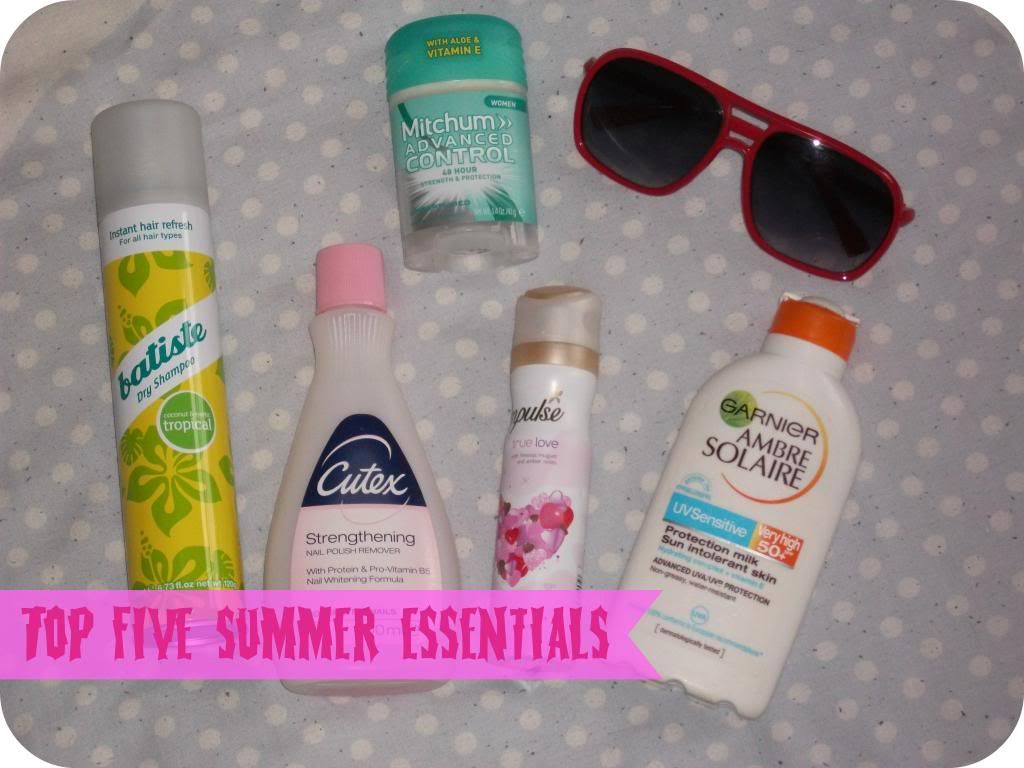 Batiste Dry Shampoo
As the weather warms up, things can start to get a little sticky, and it's easy for hair to become limp and lank. I find Batiste the perfect way to give my hair a new lease of life, freshening up my roots and adding a touch of volume. The tropical version has a Coconut & Exotic scent which is perfect for summer-time and smells just like holidays!
Mitchum Anti-Perspirant Deodorant
Every woman needs a deodorant she can depend on, and this is mine; I know it won't let me down and I can wear what I like without fear of the dreaded sweat patches ruining my favourite top or dress!
Cutex Nail Polish Remover
In the summer months, I like to keep my toenails (and fingernails) in tip-top shape as you never know when they'll be on show! This means re-painting them every week, for which a good nail polish remover is a must. I don't tend to stick to one brand, simply choosing from what's available at the time.
Garnier Ambre Solaire Sun Cream
I burn really easily, so suncream is a must-have for me. I've used Garnier's Ambre Solaire since I was a child, so the smell really reminds me of summer picnics and playing in rivers, and as an added bonus I'm not allergic to it! Especially with children in the house, it's a good idea to have plenty of suncare on hand.
Impulse Body Spray
Even with the best deodorant in the world, it's always best to be safe in my opinion - you never know when there's going to be a competitive game of frisbee or an impromptu trip to the swimming pool, so a quick spritz of body spray is perfect to cover up any less-than-desirable odours and keep you smelling sweet.
Recently, I was contacted* by the lovely people at mySupermarket, a fantastic free website that makes it really easy to
compare prices
on loads of health and beauty products. They have a range of helpful features, including
Swap and Save
, which suggests similar products at better prices, and
Savvy Buys
, products which are currently better than 30% less than their average price over the last year. You can also set up
Price Alerts
so that you receive an email notification when selected products are on offer - really handy if, like me, you like to stock up while things are cheap! As well as helping you track down
health and beauty top offers
, mySupermarket also offer exclusive cashback on selected items, meaning you get paid for using their money-saving service - that sounds like a win/win to me!
Do you like to compare prices and shop around for your essential beauty products? Have you used mySupermarket before? What are your Summer essentials?

xo