Having finished up a bottle of Simple Eye Make-Up Remover and really not liked it due to how much it stung my eyes, I was on the lookout for something which was actually gentle yet still effective, when I saw Garnier's offering. Simple Essentials Soothing Eye Make-up Remover claims to perfectly remove make-up whilst containing no perfume, alcohol or colourants. "
Enriched with plant extract and pro vitamin B5, its formula with no perfume, no alcohol and no colourants perfectly dissolves mascara from the delicate eye contour area. The eyes are perfectly cleansed and your eye contour is left feeling comfortable and fresh.
"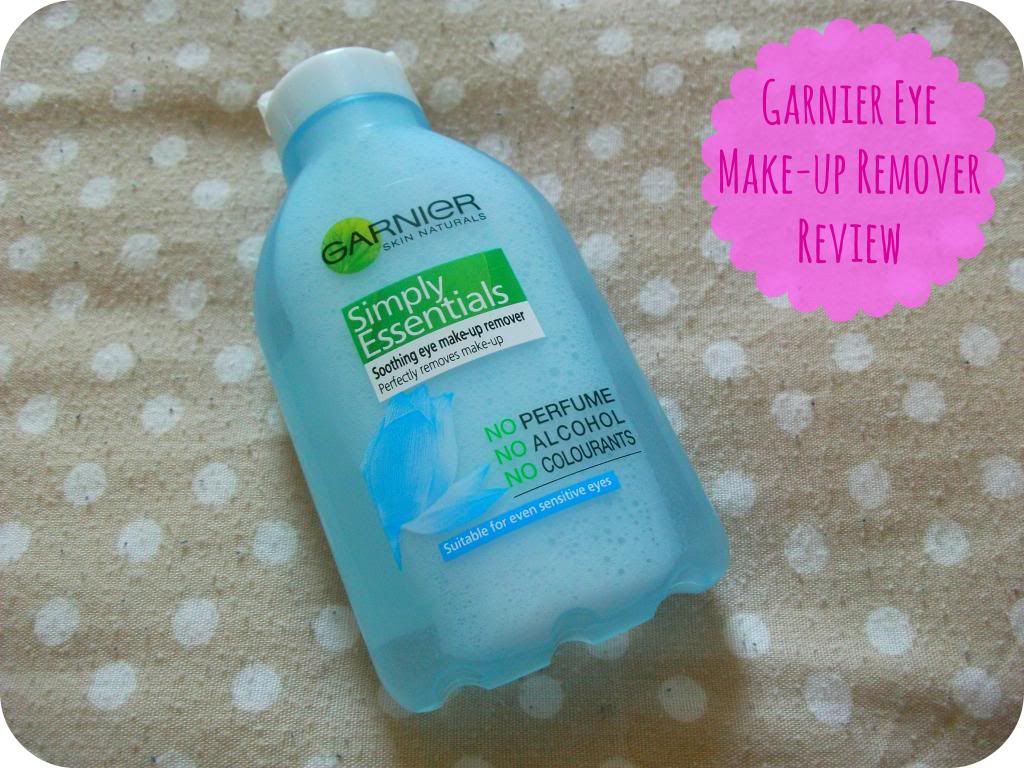 The clear packaging makes it easy to see how much you have left, and the simple flip-cap is easy to use yet secure enough to travel with. I lightly soak two cotton pads, hold one over each eye for ten to fifteen seconds, then gently wipe off. I've found this does a great job of removing my eye make-up including eyeliner, eyeshadow and mascara, although I don't use waterproof mascara. I also tested it with the notoriously difficult to remove They're Real! and found that, although it took a few more swipes with the cotton pad, this remover did a pretty good job of leaving my eyes panda ring-free.
Unlike some eye make-up removers, this doesn't leave an oily residue on the skin and I haven't found it dries out the skin around my eyes either, which is good as it's an area which I find is prone to eczema. And best of all, it really is as gentle as it claims; in heavy-handed moments when this has accidentally ended up in my eye, there has been no discomfort whatsoever, meaning I wouldn't be afraid to use it on my waterline. Overall, I think this is a great product at a really good price and will almost definitely be repurchasing; a definite thumbs up from me in terms of value-for-money, removal power, gentleness and lack of residue.
I got this from Wilkinson's and as I recall it was on offer at £1.99, its usual RRP is £2.99 for 150ml so it's still most definitely a purse-friendly buy even at full price! It's also currently on
Buy 1 Get 1 Free at Boots
so now is probably a good time to stock up.
What is your favourite eye make-up remover? Have you tried Garnier's?
xo
Please check out my featured advertiser,
Sophie Jane
, for beauty reviews, fab recipes, and gorgeous photos!