After finding that Naked's
Smooth Silky shampoo
wasn't particularly suited to my hairtype, I was advised by the lovely people at Naked to try their Volume range, which is intended for fine hair which turns limp or greasy; unfortunately, that just about sums my hair up!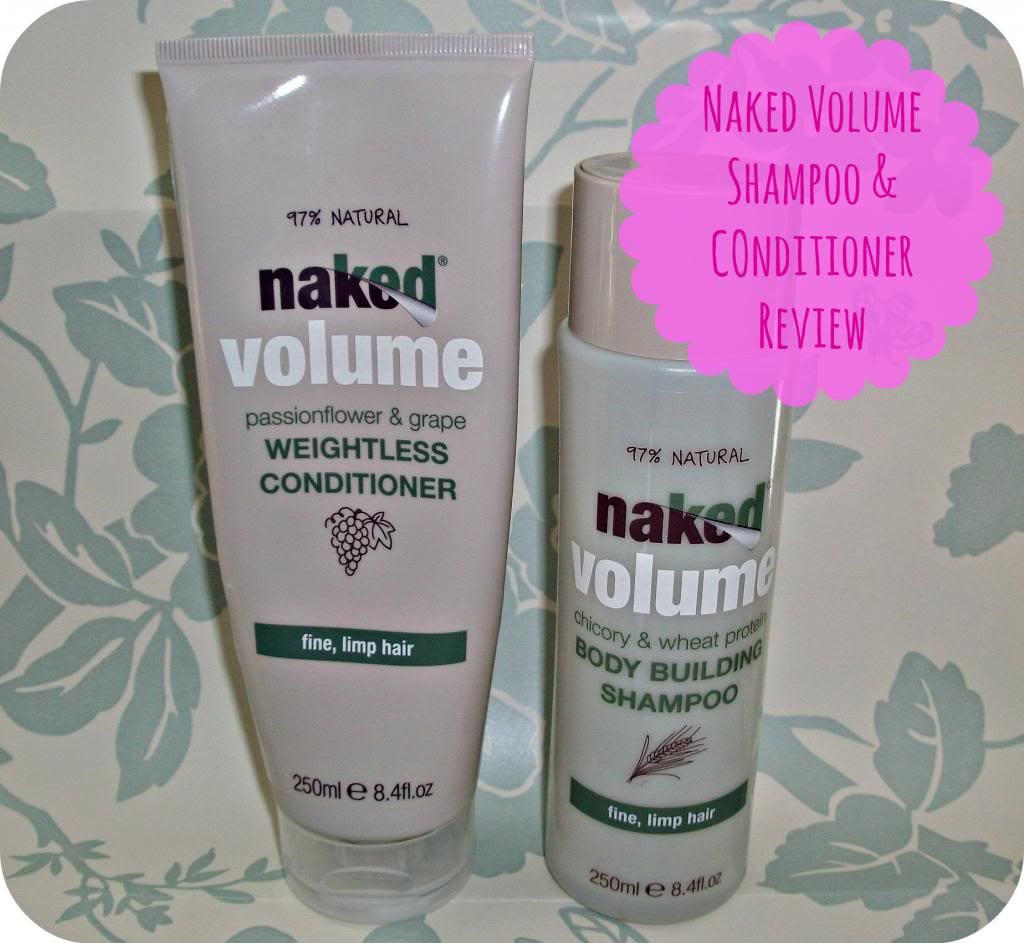 Presented in the same simple, attractive packaging as the Smooth Silky range, Naked Volume Chicory & Wheat Protein Body Building Shampoo claims, "
To build body, hair needs its very own personal trainer. So we use wheat extracts containing penetrating proteins to help plump up the volume by regulating moisture levels, with chicory extract to tame annoying flyaways. Because your hair deserves the very kindest treatment of all, we don't use harsh detergents - only gentle plant based cleansing ingredients, helping you move up a whole new hair size and giving you the body you've always dreamed of.
"
A reasonably thick, clear gel, this lathers nicely on the hair with a faintly spicy scent which reminds me of cinnamon, which I loved! Generally speaking, my hair was left feeling clean after one use, although if I'd skipped a shampoo and gone an extra day I did sometimes need to shampoo twice to get that completely clean feeling. After use my hair felt light but not sufficiently moisturised, meaning conditioner was an essential, particularly given how dry my ends are after years of bleach-based abuse! Again, I've found that this is perfect for my skin, too, and since switching to Naked hair products I've seen a massive, massive improvement in my eczema on my body. I've also noticed a huge reduction in the number of spots I get on my back, shoulders, and chest, which I'm putting down to the absence of silicons in Naked's products; I've always felt that hair products clog up my pores and now I'm thinking I was right all these years - bonus!
"
There's no need to feel weighed down, and fine hair needs to be conditioner without heaviness. So we use grape and passionflower extracts which lightly smooth down the hair cuticle, with corn extract to plump it. Using plant based conditioning ingredients, this effective formulation helps leave your hair a whole size bigger and bouncier without petrochemical residue build-up.
"
This conditioner is a lot thinner in consistency than the Smooth Silky conditioner, which made it much easier to squeeze out of the tube. This has a similar spicy scent to the shampoo which as I said previously, I really like. It works effortlessly through the lengths of my hair and rinses out easily, leaving my hair light and clean-feeling. Unfortunately, though, I don't feel like this gives enough conditioning for my poor dry ends; once I've finished up this tube, I'll be going back to the Smooth Silky conditioner whilst continuing to use the Volume shampoo, so hopefully that'll be my ideal combination. If your hair was in better condition than mine and doesn't need quite such intensive moisturisation, I'm sure the Volume conditioner would work perfectly to give you lovely light, silky hair, but for me it's just not quite enough!
Overall, I love the shampoo and will repurchase, but the conditioner just isn't for me and I'll be switching back.
Naked Volume Shampoo and Conditioner are available from
Boots
at £4.19 each, or direct from the
Naked
website, priced at £3.98 each.
What are your favourite haircare products? Have you tried any of Naked's products?
xo
[Please note these products were purchased with a 10% discount code provided to me by Naked Bodycare to allow me to find my perfect range from their brand for a little less; this in no way affects my review and as always my thoughts are completely my own!]
Please check out my Featured Advertiser,
Sophie Jane
, for beauty reviews, fab recipes and gorgeous photos!