Santhilea's Magnetic Lash Mascara is a unique 1-2-1 system whereby you coat your lashes with the special "magnetic" mascara, then brush on tiny velvet-like fibres which act as instant lash extensions, before sealing them with another coat of the mascara. Santhilea claim this is an easy alternative to false lashes or lash extensions, and as someone who's never quite mastered falsies I was keen to give these a go, so jumped at the chance when I was offered a set to review. Presented in two matching mirrored silver tubes, the product feels high-quality, even if it was awkward to photograph properly!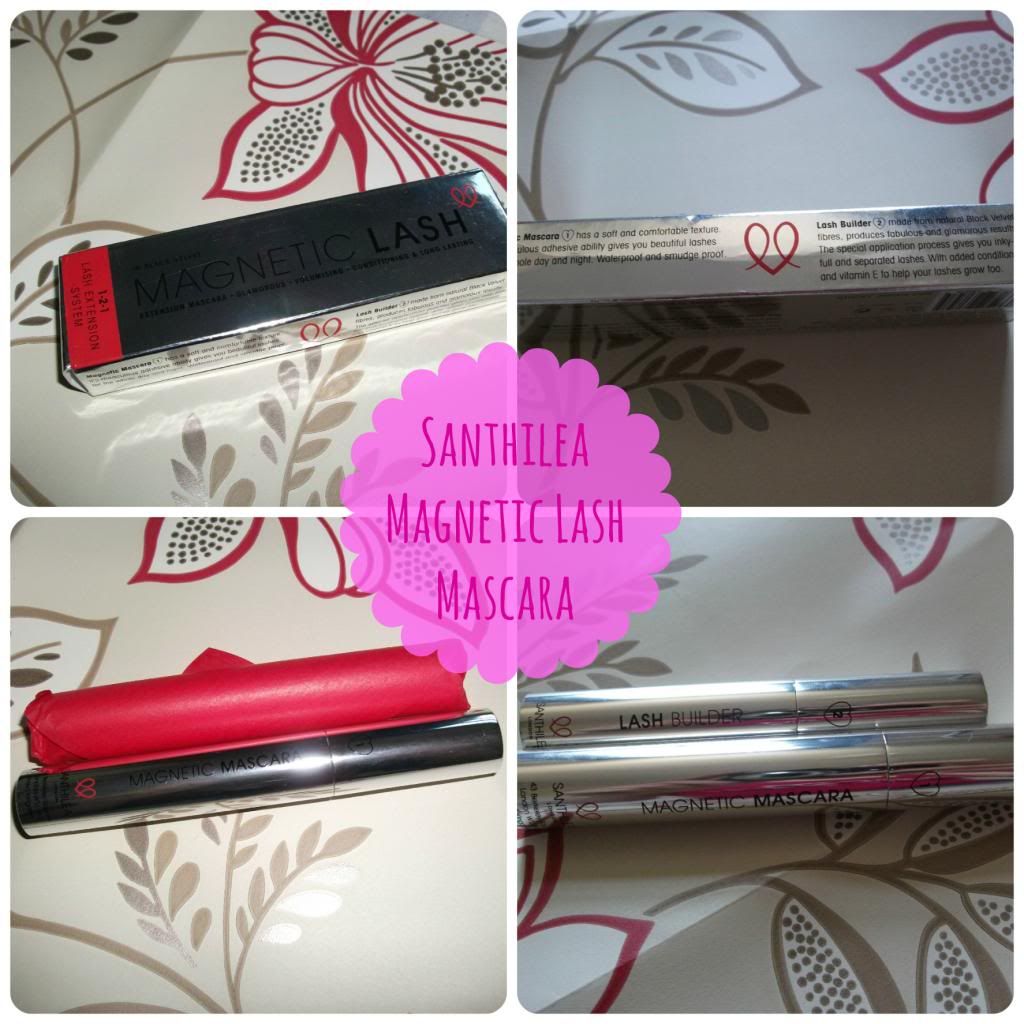 The lid of the first tube unscrews smoothly to reveal a chunky, curvy mascara wand with jet-black mascara which applies evenly and gives a good lengthening effect even on its own. I found that the wand was easy to use, although the opening of the tube doesn't remove excess mascara very well so you do need to remember to wipe the excess off before you start applying. The second tube opens to reveal a thinner, fluffy-looking wand which is covered in the small black fibres which provide the lengthening effects.
The instructions tell you to apply one thick coat of mascara, then dab on the fibres from the second tube whilst the mascara is still wet, so it's probably best to do one eye at a time. You then apply a second coat of the mascara to seal everything in, giving you lovely thick long eyelashes with none of the fuss of falsies and without the expense of extensions (I hope you enjoyed my alliteration there!? ;D)
Below, you can see my bare lashes, and then on the left on the photos there's (1) mascara alone, (2) mascara + fibres, and (3) mascara + fibres + top coat of mascara. As you can see, it does give a dramatic thickening and lengthening effect, although it is a little clumpy if you're not careful.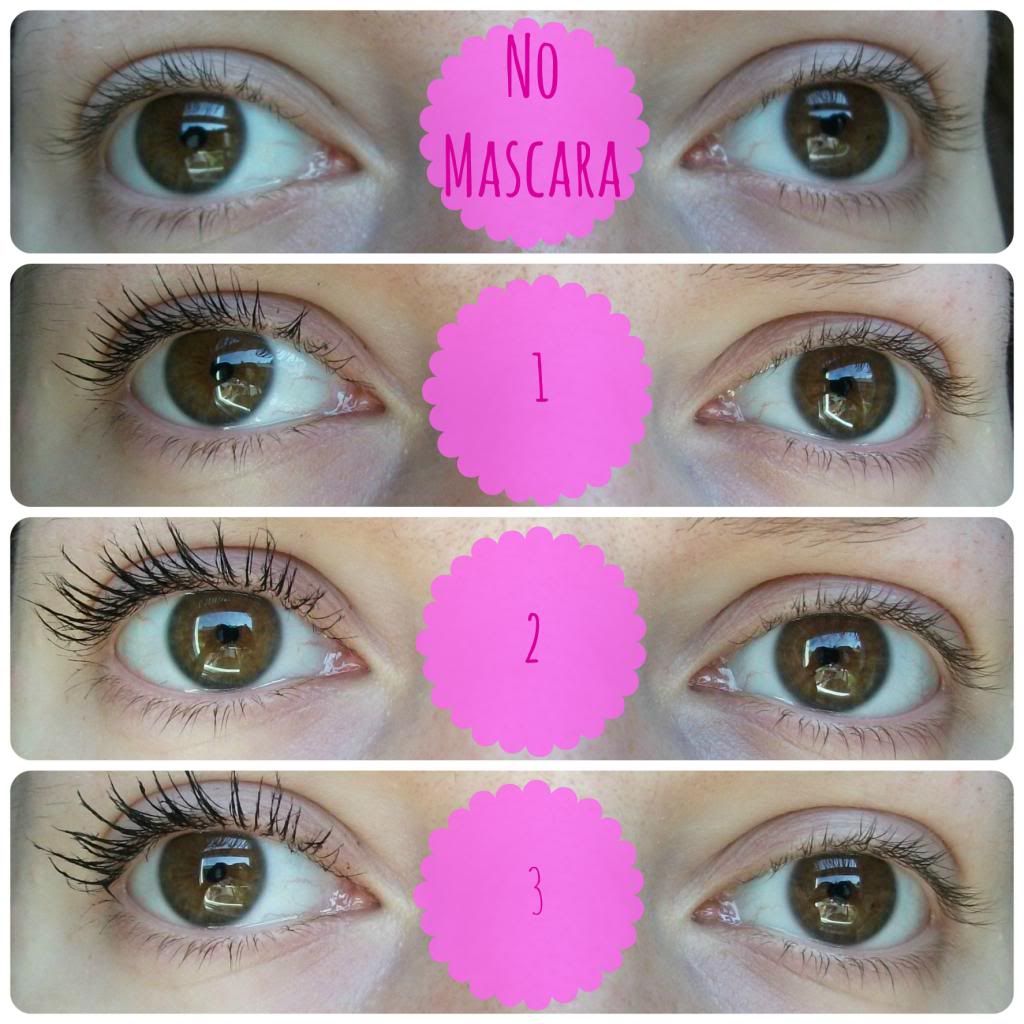 From the first go, I found this easy to use and really liked the effect it gave; it does exactly what it claims and is perfect for those like me who struggle with false lashes pinging off the corners of your eyes within five minutes of applying them. The mascara also contains Vitamin E and hyaluronic acid, which work to condition and strengthen your lashes, meaning they may end up growing longer and thicker just through using this mascara - I've not been using it long enough to notice a difference, and my lashes are quite long anyway, but for someone with shorter or sparser lashes, this might be something to consider!
In terms of wear, I didn't have any problems with the mascara smudging or flaking throughout the day, although I did find that some of the fibres dropped off onto my face around lunchtime; these were easily wiped off and didn't seem to make my lashes look any less long and full than when I first applied. This might just be due to not having fully got the hang of the technique yet or applying the fibres too heavily in the first place. I was a bit worried about removing this mascara, as other products I've tried with lash fibres in the mascara itself have been a nightmare to take off. This, however, was a dream; I simply held a cotton pad soaked in eye-makeup remover over my eye for about ten seconds, then swiped off - and that was it! It's actually easier to remove than most mascaras I've worn.
I don't think this is something I'd wear on a day-to-day basis, much like I wouldn't wear falsies daily, but for a night out or special occasion this gives a little extra without spending all night worrying whether my lashes are still stuck on. I only usually wear one coat of mascara during the day, so this took me a little longer to apply, but if you wear three coats, this won't take much longer; any extra time would come from switching tubes between application, and doing one eye at a time.
Safe for use with contact lenses and not tested on animals,
Magnetic Lash Mascara
is available from LookFantastic priced at £24.99 for 12g of mascara and 1g of fibres, which Santhilea claim will last as long as your average tube of mascara.
xo
[Please note, this product was sent to me free of charge in return for an honest review; as always, all views are my own and I'd never say I liked a product if I didn't!]