Hello! I'm back! I hope you're all well and enjoying the unseasonal monsoons...? Sorry for the unplanned and unannounced break; my Internet provider decided I didn't need internet anymore and took aaages to get me back online, meaning I've been a bit cut off from the world for the last ten days. I'm back now though, with plenty of exciting things to share, starting today with my recent blog swap with Amiiee from
It's Amiieeism
! I signed up for this swap organised by the lovely
Kat
, a few weeks back now, and was paired up with Amiiee. We set a budget of £20 (which I went a little over, and Amiiee proceeded to ignore entirely from what I can tell) and the shopping commenced! Here is the lovely bundle of bits and pieces I received: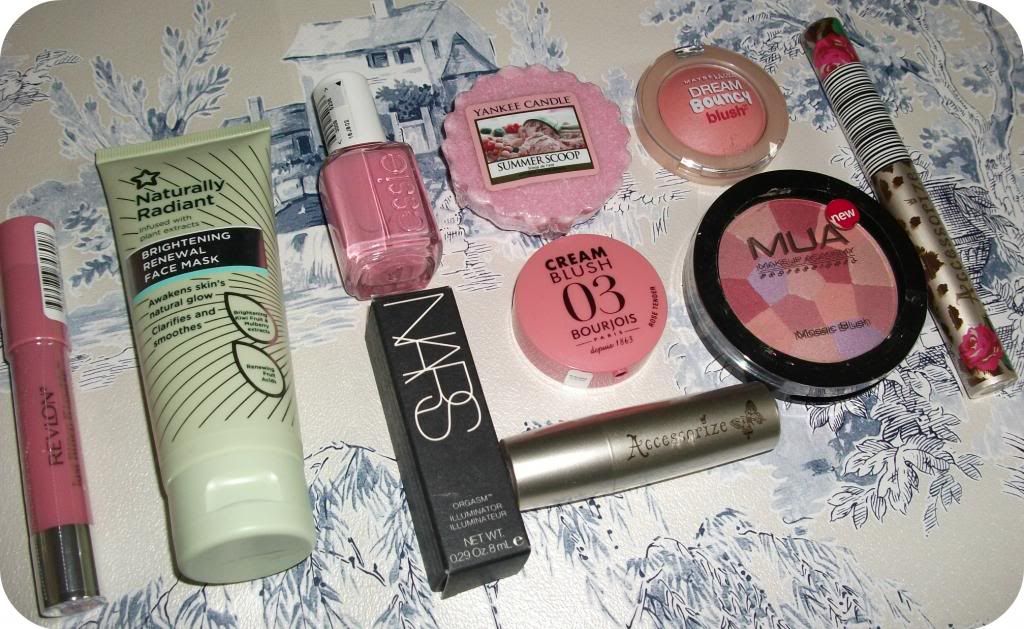 Revlon Just Bitten Kissable Balm Stain in Shade 01 'Honey'
Superdrug Naturally Radiant Brightening Renewal Face Mask
Essie Nail Polish in 'Flawless'
NARS Illuminator in 'Orgasm'
Yankee Candle Wax Melt in 'Summer Scoop'
Bourjois Cream Blush in Shade 03 'Rose Tender'
Accessorize Lipstick in 'Vintage Rose'
Maybelline Dream Bouncy Blush in Shade 15 'Rose Petal'
Accessorize Mascara
MUA Mosaic Blusher in Shade 3 'English Rose'
Amiiee also included some Creme Eggs (my favourite!) and a huge number of little samples - she really was far too generous, it was such a lovely parcel to receive. Thank you so much to Amiiee for picking out such perfect items, and to Kat for organising the swap!
If you'd like to see what I sent Amiiee, you can read her post
here
!
Did you take part in Kat's swap? Have you ever taken part in a blog swap? Would you like to?
xo
Please check out my Featured Advertiser,
Sophie Jane
, for beauty reviews, fab recipes and gorgeous photos!