Since my
Lipstick Collection
post last week proved pretty popular, I decided I'd do a similar post about my blushers; I have done this post previously but that was quite a while ago now and my collection has grown considerably since then! So, without further ado...
Again, I struggled with how best to group these; in the end I decided to share cream blushers first, followed by powders in a semblance of order by brand. Shade names will link through to reviews/FOTDs where I've done them, if there's a particular blusher you'd like to see in more detail let me know and I'll get on it!
Left to right: Topshop 'Flush', Bourjois '
Rose Tender
', Maybelline Dream Bouncy Blush '
Rose Petal
', and Topshop/Louise Gray 'Up In The Air'.
I really like cream blushers for the summer and have been getting a fair bit of wear from the Bourjois cream blusher since receiving it from
Amiiee
last month; 'Flush' was my first cream blusher and is really lovely and easy to build, although it fades quite quickly. I'm less keen on Maybelline's Dream Bouncy formula which is just a bit weird if I'm honest, and I think was more created for novelty than because it's actually a good formula for a blusher. That said, it's a pretty shade and I have been wearing it! 'Up In The Air' is a duo containing two lovely bright shades which are perfect with understated eyes and lips.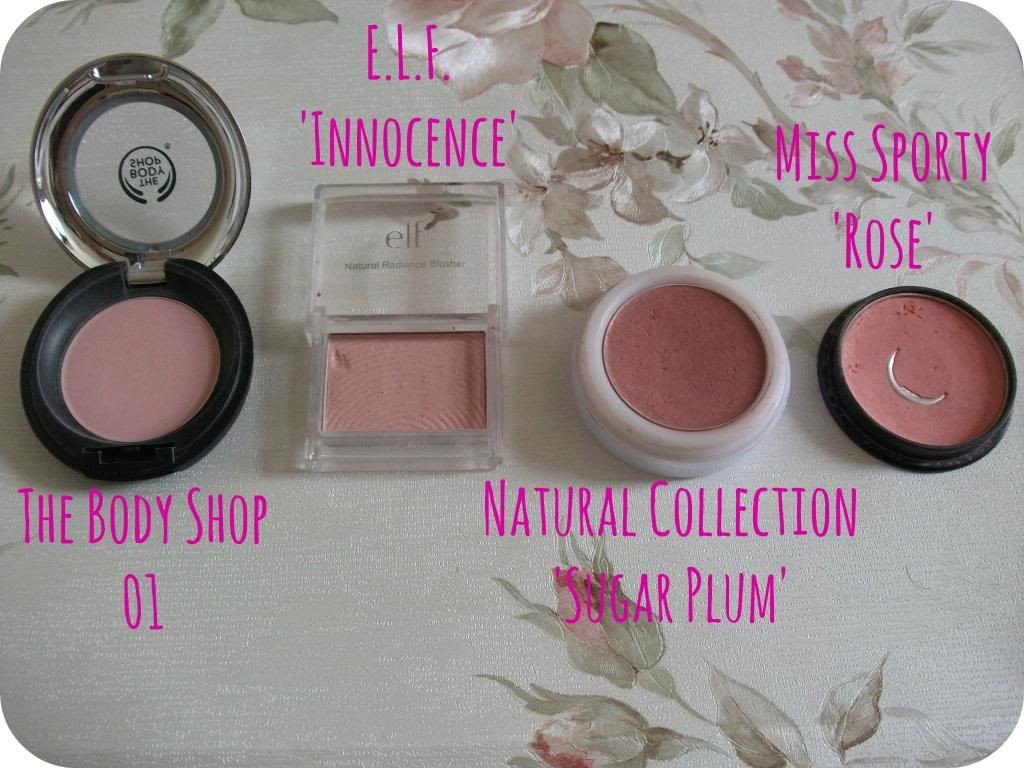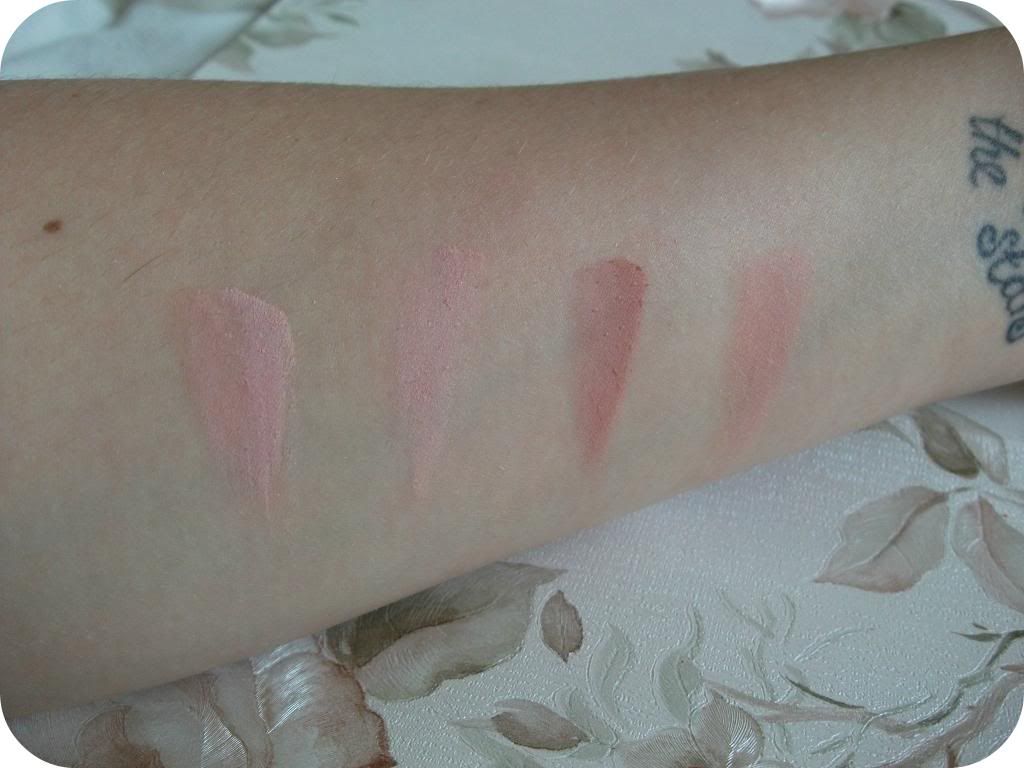 Left to right: The Body Shop Shade 02, ELF 'Innocence', Natural Collection '
Sugar Plum
', Miss Sporty 'Rose'.
The first two of these, I never wear; as you can probably see in the swatches, they're really light in colour and even on my pale skin they just don't show up, no matter how much I try to build them. I don't know why I still have them, to be honest. 'Sugar Plum' is quite a deep shade and is lovely in Autumn although it's really pigmented and does require a light hand; 'Rose' was my first-ever blusher and is great for a really natural pop of pink as it gives just the right amount of colour to the cheeks.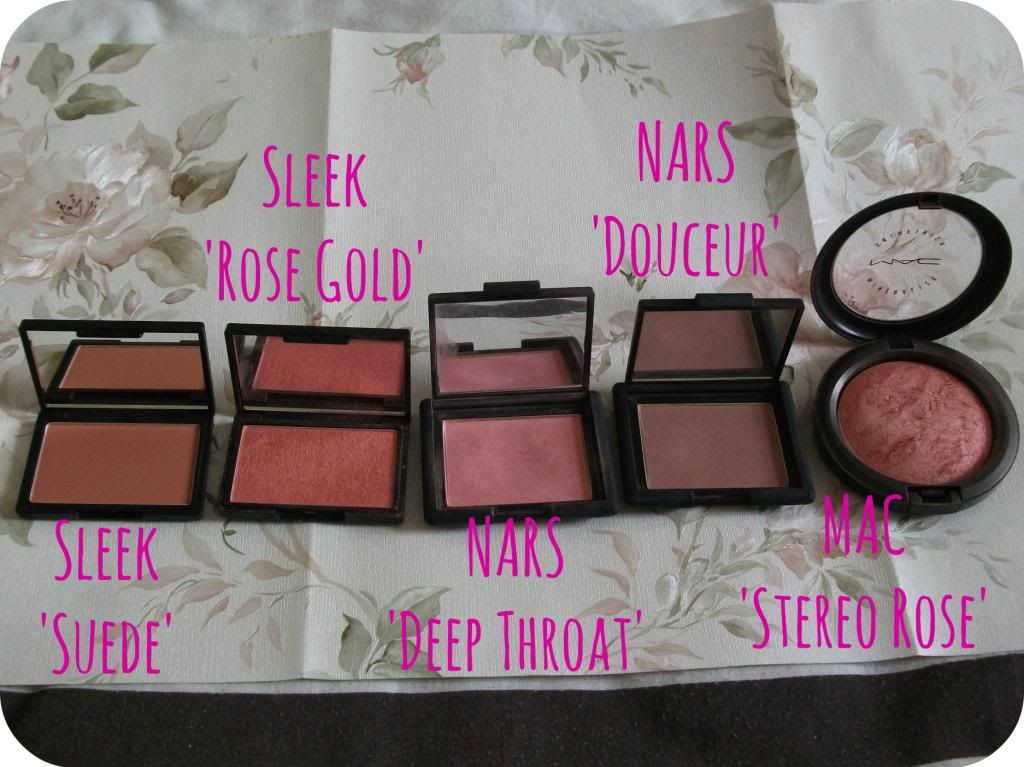 Left to right: Sleek 'Suede', Sleek '
Rose Gold
', NARS '
Deep Throat
', NARS '
Douceur
', MAC Mineralize Skin Finish '
Stereo Rose
'.
I received 'Suede' in my
April Glossybox
and to be honest, I'm pretty disappointed with it as it has poor pigmentation and doesn't really seem to work for me; it's a shame as 'Rose Gold' is a gorgeous shade, is amazingly well-pigmented, and is one of my most-used blushers. 'Deep Throat' is another favourite which gives a lovely highlight to the cheeks and looks lovely all year round; 'Douceur' is also beautiful and a really flattering shade which I think would suit most skintones. 'Stereo Rose' requires no introduction; all I'll say is I'm so glad I treated myself to this, it's my most-used blusher and my go-to on days where I'm not sure what look I'm going for. I love it!
Left to right: Avon True Colour '
Russet
', MUA Shade 04, MUA Shade 02, MUA Mosaic Blusher 'English Rose', George at Asda 'Heaven Sent'.
'Russet' is another super-pigmented number and one which I rarely wear as I always end up applying too much, although it's a really pretty shade when I remember to be careful. MUA's £1 blushers are such good quality, both of these are really well-pigmented and are lovely shades, 04 being another one of most most-used at the moment as it's perfect for summer. I think 'English Rose' falls between a blusher and a highlighter as it's so pale in colour, and I feel like I'll get more wear out of it come Winter, although it is a gorgeous shade. Finally, 'Heaven Sent' was an impulse purchase which actually swatches as almost identical to Sleek's 'Rose Gold', and is another blusher which is really packed with colour and requires a light hand for a pretty flush of colour.
What do you think of my collection? Do you own any of these blushers? Which is your favourite blusher?
xo
Please check out my Featured Advertiser,
Sophie Jane
, for beauty reviews, fab recipes and gorgeous photos!