I received a sample tube of
Glam Glow
in a giveaway over on
Krystel's blog
, and have had two face masks from the 7ml sample I received. I don't feel this is enough to give a full, in-depth review but I thought I'd share my initial thoughts nonetheless.
On first impressions, the black and silver tube is attractive and appealing, although the full-sized product comes in a screw-top jar rather than a tube.
Claims on Glam Glow's website include:
- Leaves skin noticeably radiant and glowing.
- Activates moisturizing collagen synthesis.
- Provides gentle resurfacing exfoliation.
- Helps to leave skin smoother, brighter and softer.
- Provides tighter skin texture and tighter pores.
- Helps to provide a more youthful appearance.
- Absorbs impurities without removing natural oils.
- Helps to protect against free radical damage.
...All of which sound pretty good to me!
Squeezed from the tube, this is a mid-grey cream with a gritty texture, delivering exfoliation as you apply to your face. It has a scent but doesn't really smell of anything in particular to me; just a standard skincare sort of smell. It tingles on the skin which makes it really feel as though it's working, and as it dries it turns to a light grey colour.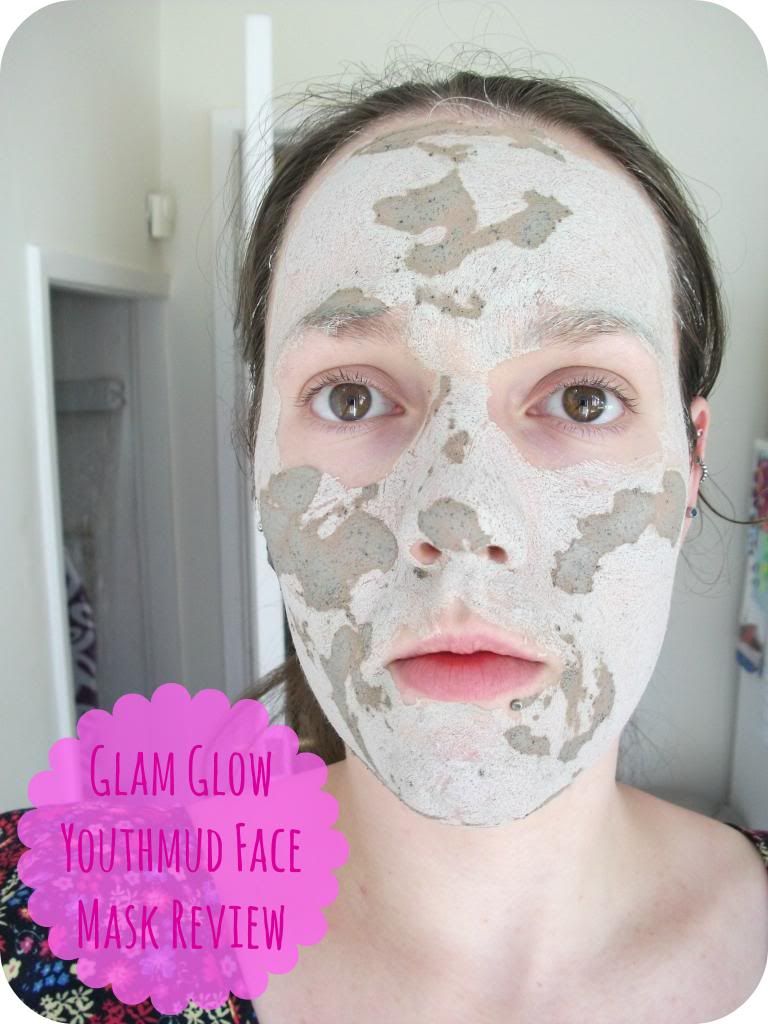 After around ten minutes, I wash off with plenty of warm water and a muslin cloth; if you have sensitive skin, I'd recommend doing this in the shower as you do get a fairly intensive exfoliation. Once my skin is clean and dry, I find it looks brighter and feels softer and smoother, with blackheads around my nose visibly reduced (although not gone altogether!) and my large pores shrunk. Some mud masks can dry the skin out, but I don't find that to be a problem with Glam Glow, although if you have a drier skin-type than me you may find you do need a little extra moisturisation. So, I'd say this mask definitely lives up to six of its eight claims, and I think the other two (more youthful appearance and protection against free radical damage) would require more long-term use to see full effects. I'd say the results lasted two or three days in terms of my skin looking brighter and feeling softer and smoother, which would be perfect if you had a special event and wanted your skin to glow!
Glam Glow Youthmud Mask retails at
£24.99 for 15ml
or
£49.99 for 50ml
, which is definitely on the higher end of the face mask price range for me; however, I feel like the results I've had from just two uses would make it worthwhile if I had that kind of money to spare. Based on two usages from 7ml, I'd expect the 50ml jar to last maybe 14 usages, bringing it in at around £3.50 per usage. You can order a
7ml sample tube
from Glam Glow's website for £4.99, which bizarrely enough, actually works out cheaper than the larger-sized products, and would definitely be worth purchasing before you decide to make an investment.
All in all, I think this is a great mask, which does what it claims and works really well to clear and brighten the skin. It's definitely on the pricey side but would be a good investment if you can afford it, and if not then the sample size won't break the bank and will allow you a quick treatment before a special event.
Have you tried any of Glam Glow's masks? What are your thoughts? Would you spend this much on a face mask?
xo
Please check out my Featured Advertiser,
Sophie Jane
, for beauty reviews, fab recipes and gorgeous photos!