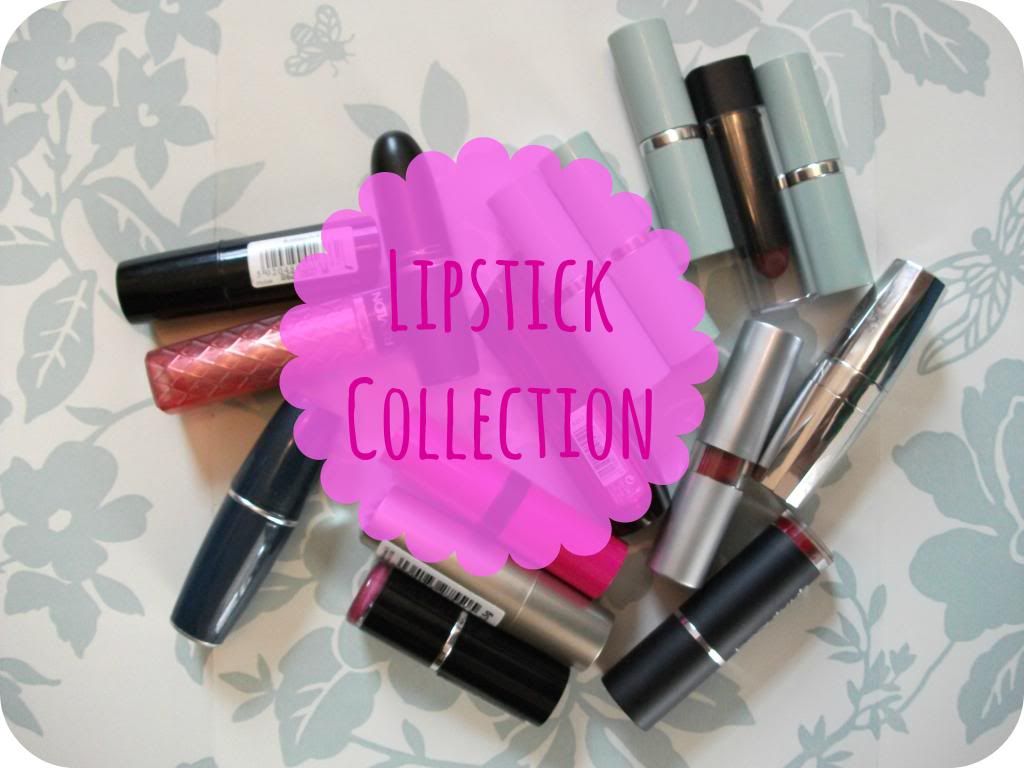 I've acquired a few new lipsticks recently and am starting to wear them more and more; for years, I simply didn't wear lipstick and wasn't comfortable doing so, but I'm finally beginning to experiment a little more with colour on my lips. That said, a lot of these do actually appear to be very similar in colour... I obviously know what I like! I wasn't really sure how to group these, as the vast majority of my lipsticks are, apparently, pink. In the end, I put reds together, and then sort of split what was left by brand. So, here goes! I've linked each shade name through if I've posted about it, but if there are any other shades you'd like me to review in full or swatch properly, just let me know and I'll do my best!
Under reds, I have four lipsticks, from left to right: Beauty UK 'Vampire', Avon 'Smitten Red', ELF 'Voodoo' and Ulta3 'Deep Red Rose Matte'.
Although I do love a red lip, I'd say these are my least-worn shades as I tend to save them for days when I'm feeling super confident. 'Vampire' and 'Smitten Red' are both cooler-toned reds, whilst 'Voodoo' and 'Deep Red Rose Matte' are warmer-toned.
Left to right:
Revlon Lip Butter 'Macaroon'
,
Collection 'Sweet Tart'
, Jemma Kidd 'Rose', Avon 'Frozen Rose', Accessorize 'Vintage Rose' and
Deborah Milano Shade 8
.
The Collection is my favourite lipstick, with the Deborah Milano a close second; I love a pink lip and feel that it's the shade that suits me best. The Avon lipstick is ancient and is the first lipstick I ever owned; it's a lovely barely-there shade, as is the Jemma Kidd, which came from TKMaxx in a set for about £5. The Accessorize lipstick was part of my
swap package with Amiiee
from a couple of weeks back, and I've yet to actually wear it properly.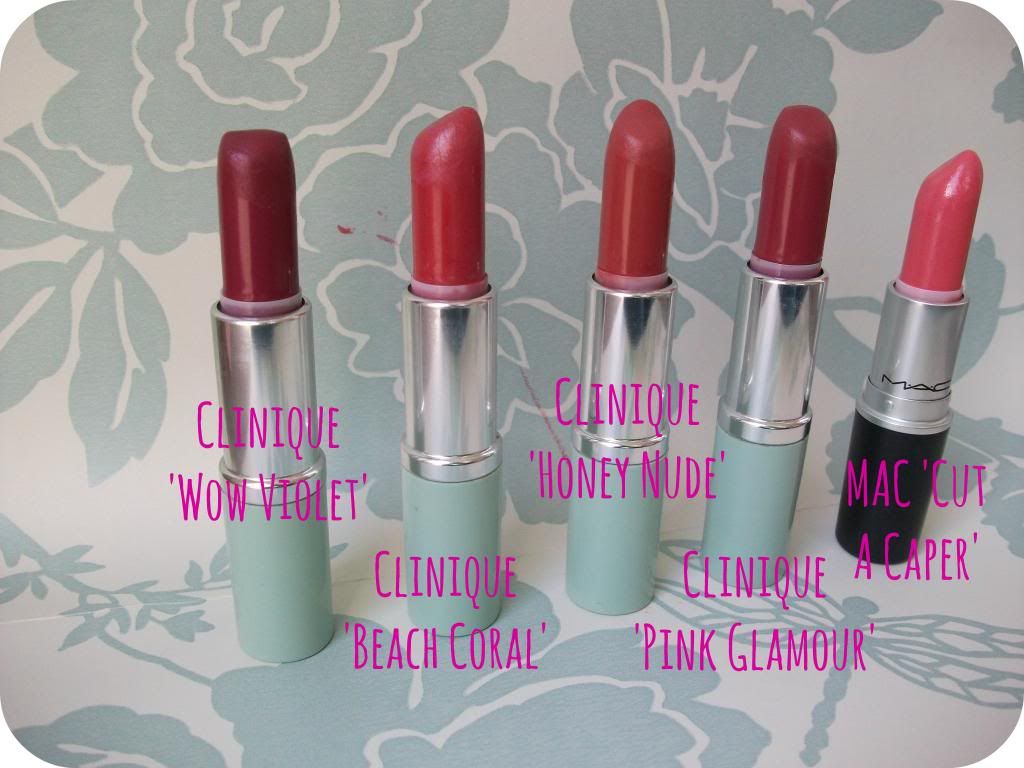 And finally, these are my Clinique lipsticks plus my one and only MAC lippie. Again, left to right: Clinique 'Wow Violet', Clinique 'Beach Coral', Clinique 'Honey Nude', Clinique 'Pink Glamour', and
MAC 'Cut A Caper'
.
I loved 'Cut A Caper' when I first got it but have rarely worn it recently, I'm going to start wearing it again now I've been reminded of its existence! The Clinique lippies were all 'free gift with purchase' items which were gifted to me by a friend's mum who didn't wear lipstick - score! The shades I wear most are 'Beach Coral' and 'Wow Violet', I'm less keen on 'Pink Glamour' and 'Honey Nude' is quite an unflattering shade on me, I think.
So, that's my little lipstick collection! What do you think? How many lipsticks do you own?
xo
Please check out my Featured Advertiser,
Sophie Jane
, for beauty reviews, fab recipes and gorgeous photos!