I was recommended these products by the lovely people at Naked Bodycare and ordered them both to give them a go. I've been using them for a couple of months now, and thought it was time to share how I've been getting on; I've already reviewed both their
Volume Shampoo & Conditioner
, and their
Smooth Silky Shampoo & Conditioner
, so do have a read of those if you're looking for SLS-free, silicone-free haircare!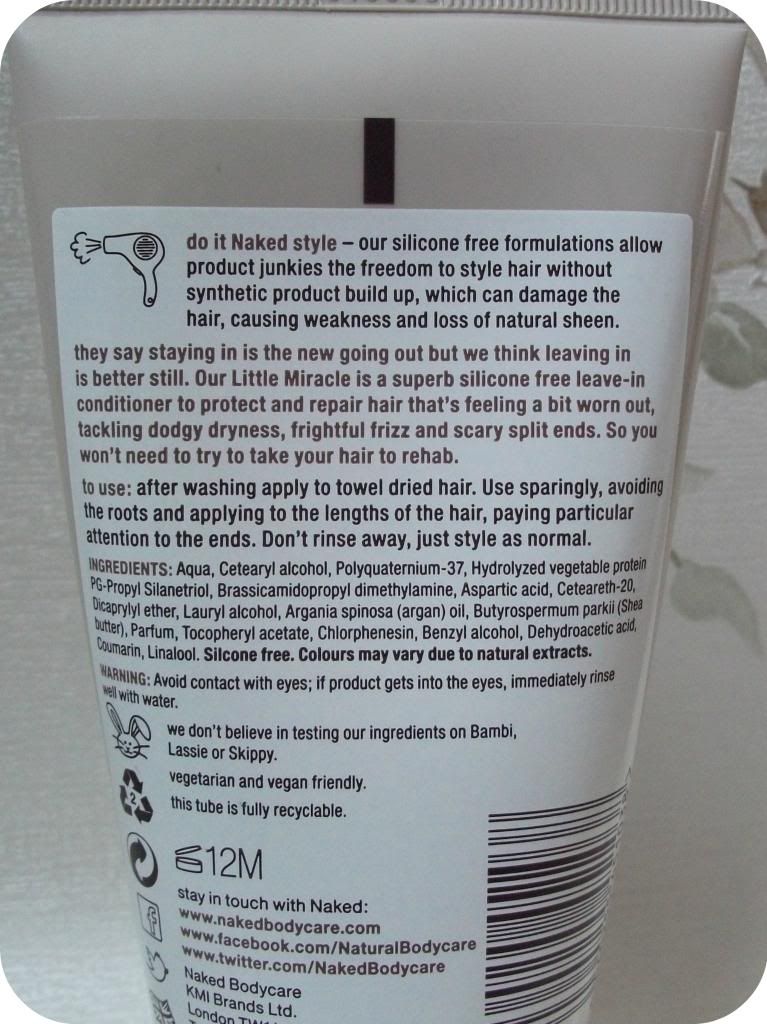 Since I suffer from extremely dry ends, it was suggested that I try Naked's Little Miracle Leave-In Conditioner to add a little moisture back in. Containing Shea Butter and Argan Oil, this product claims to repair and protect dry hair against heat styling and breakage.
"
Our silicone-free formulations allow product junkies the freedom to style hair without synthetic product build-up, which can damage the hair, causing weakness and loss of natural sheen. Our Little Miracle is a superb silicone-free leave-in conditioner to protect and repair hair that's feeling a bit worn out, tackling dodgy dryness, frightful frizz and scary split ends. After washing, apply to towel dried hair. Use sparingly, avoiding the roots and applying to the lengths of the hair, paying particular attention to the ends. Don't rinse away, just style as normal.
"
After washing and towel-drying, I've been rubbing a blob roughly the size of a 10p between my palms, then smoothing through the lengths of my hair, concentrating on the ends as suggested. This has a lovely scent, almost coconutty, which lingers in the hair delightfully. At first, I think I was using a little too much product, which left my hair feeling crispy and weird once dry, so I definitely suggest that you follow the instructions and use sparingly! I don't feel like this has repaired my hair as it claims, but then I never believe products which claim to repair hair. It has, however, done a reasonably good job of moisturising my hair and keeping it feeling softer, which frankly is a
little miracle
given how dry my ends were previously. I do still have split ends but I think there's fewer than there were before - this might just be wishful thinking, but I honestly do think my hair looks better, regardless. Overall, I really like this product, it's a much-needed extra shot of moisture in my haircare routine and one I see myself keeping up for the foreseeable future. Given how little I'm using, the 150ml tube will last months, making it great value for money.
I was also recommended the Extra Shiny Finishing Serum, again to help combat frizz and give my hair a little more shine. According to the bottle, this product contains moisturising botanical extracts with natural minerals to add a glossy sheen.
"
Beautiful things come in small packages, and this little gem brings instant shine and radiance, putting the sparkle back in your hair. After styling, pump a pea-sized amount into palm, and run through dry hair from the roots to the ends. Can also be used to calm the flyaways at the parting.
"
I use this after drying my hair, pumping twice into the palm of my hand. I then rub my hands together and smooth from my parting downwards to help tame flyaways. I then run my hands through the lengths of my hair, which again smoothes the hair and adds a little shine, leaving it feeling soft and silky. This product has a lovely fruity scent which I don't find lasts long in the hair but does make it pleasant to use. It's pretty effective in giving a little extra shine to my hair, although I don't feel it's strong enough to completely tame my flyaways - they are extremely gravity-resistant, though! Again, this is a lovely product which has been welcome in my haircare routine and which I can see myself continuing to use for years to come.
Little Miracle Leave-In Conditioner
is priced at £4.99 for 150ml, whilst
Extra Shiny Finishing Serum
is £4.99 for 50ml, both available from Naked's website.
Have you tried any of Naked's styling products? What do you use to keep your hair soft and silky?
xo
[Please note these products were purchased with a 10% Discount code provided by Naked; I have not been asked to review them and am not being compensated in any way for doing so. As always, all opinions are my own.]
Please check out my Featured Advertiser,
Sophie Jane
, for beauty reviews, fab recipes and gorgeous photos!