Until I started blogging, I rarely used top coat when I painted my nails; no wonder my polish always chipped so quickly! As I discovered blogs, though, I also discovered the benefits of doing my nails properly, including, of course, a proper base and top coat. I heard whispers about Seche Vite but was never willing to splash that much cash on a topcoat. So, needless to say, I was thrilled when I received one in a 'Try' from
What's In My Handbag
. I have to be honest; I am now unsure how I ever managed without it! It's not perfect, though, so in this post I'll share my pros and cons of Seche Vite's Dry Fast Top Coat.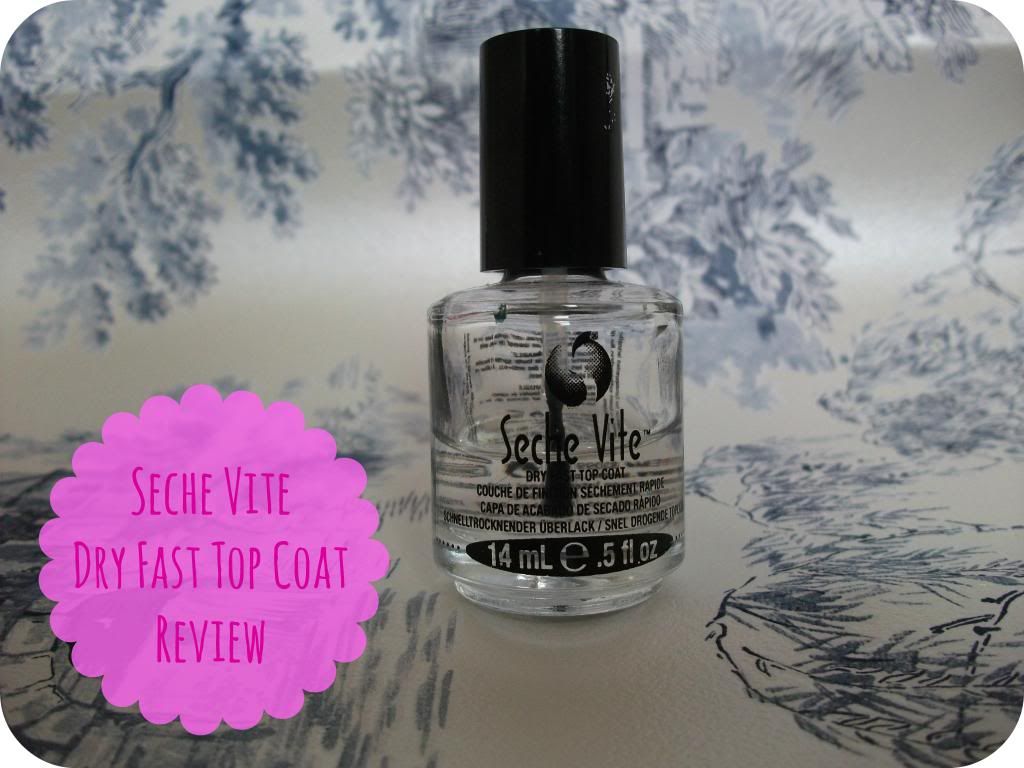 It sounds like a great product in theory; pop it on over your freshly painted nails to have them dry in next to no time so you can continue about your everyday life - scratching things that itch, going to the toilet, etc. Seche claim their product is, "
Specially formulated to penetrate through nail lacquer to the base coat, forming a single solid coating over the nail plate for a much more durable finish. Guaranteed not to yellow whilst leaving nails silky, stronger and resistant to chipping and peeling.
" Sounds good, hey? And it is! There's a bit of a knack to applying it (you need to have a droplet on the end of your brush, and apply that to the nail in three strokes, so your brush never actually has to touch the nail) but once you get that down it's easy. Paint your nails, bang this on top, give it a couple of minutes... and boom! Nails done, with a gorgeous super-glossy finish.
Of course it's not that straight-forward, is it? Nothing ever is. Although your nails are dry within a couple of minutes, they will still dent for 20-30 minutes, so you do still need to be careful. I've also had a few problems with shrinkage, where the nail polish shrinks as it dries, pulling away from the tip of the nail and leaving an unattractive naked patch; I've found this happens when I've used lots of coats. It's generally fine with two coats, but three is pushing it and any more than that is not going to work with Seche Vite, as you can see in this photo where I used four coats of Essie's Sugar Daddy and one coat of glitter polish.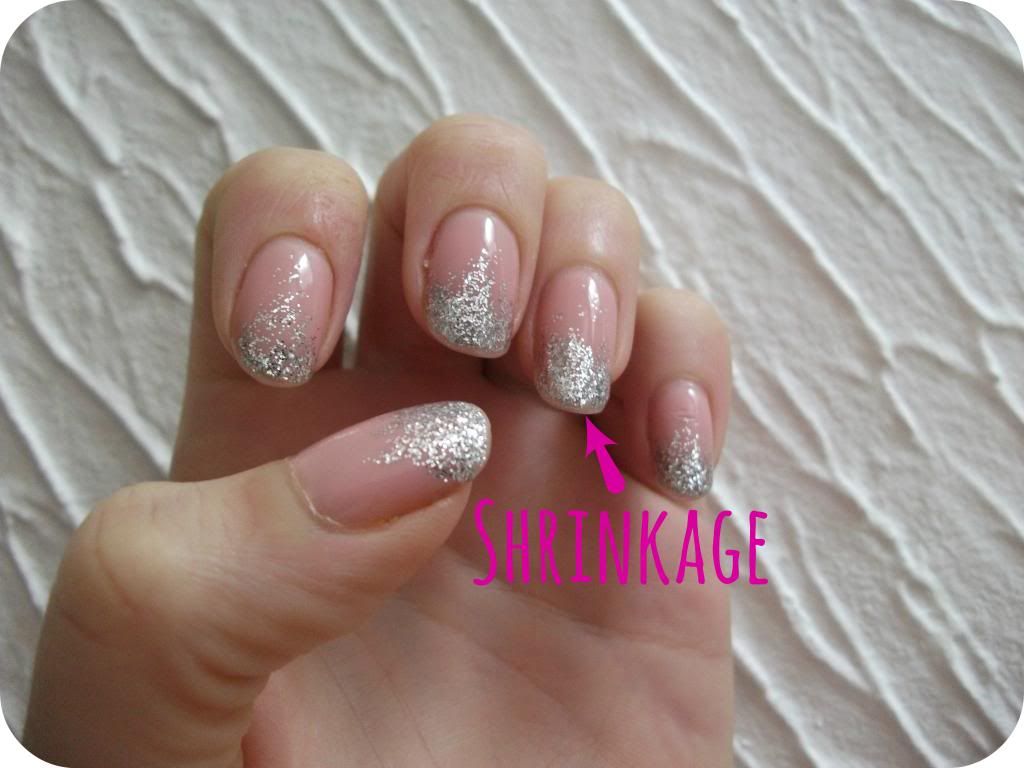 I've also found that, as I get further down the bottle, the polish is becoming thicker and harder to apply, meaning I'm more prone to smudging my polish in the process. Seche do actually make a product to rectify this, Seche Restore, although you'd think if they were aware of the problem they'd fix it rather than making you buy an additional product to be able to use the one you've already bought?
One last complaint; the brush doesn't actually reach the bottom of the bottle even when the lid is screwed on, so there's going to be about 3mm of product in the bottom that I won't be able to reach - annoying!!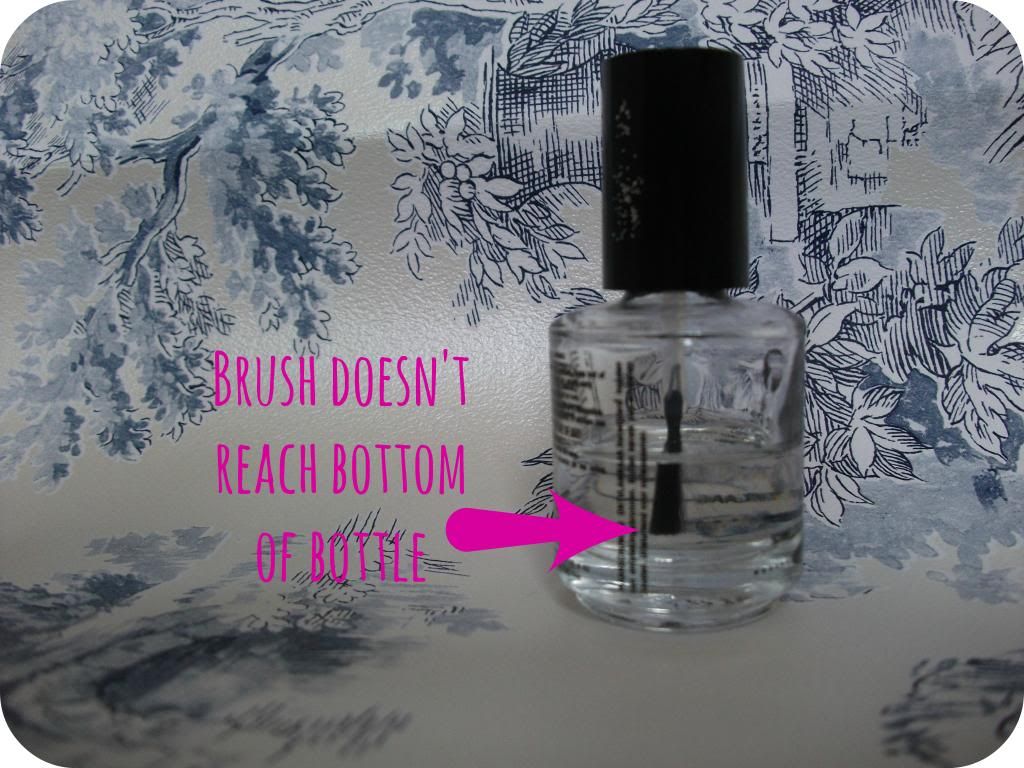 This aside, I do think this is a great quick-dry top coat, although I have nothing to compare it to as its the only one I've tried. I would like to try some other brands but can see myself repurchasing this if others don't live up to its standards.
Seche Vite is available from BeautyBay
priced at £8.08 for 15ml, although its RRP is £9.50.
Have you tried Seche Vite? What's your favourite top coat?
xo
[Please note I received this item free of charge in a 'Try' from What's In My Handbag. As always, all thoughts and opinions are completely honest!]
Sophie Jane
is my Featured Advertiser this month; please have a peek at her blog for fab beauty reviews, gorgeous photos and lovely recipes!