Good afternoon! Isn't the sunshine gorgeous today? When the weather is warm like this, I tend to want to wear as little make-up as possible, as I know it'll invariably slide off my face anyway. I've just been pottering around today, getting odd jobs done and wandering into town to post some eBay parcels, so I wanted to look presentable whilst still being comfortable.
I received Revlon's Just Bitten Kissable Balm Stain in my swap parcel from Amiiee, in the shade 'Honey'. I'd heard a lot of good things about these stains so I was excited to try this, and I haven't been disappointed!
You get plenty of product for your money, which twists up easily from the crayon-style applicator, meaning you don't need a sharpener or anything like that. It applies to the lips smoothly without any dragging, giving a lovely glossy all-over colour. The product feels really comfortable and moisturising on my lips, and lasts well; at least a couple of hours. As it begins to fade, it loses its shine, but it lives up to its claims of being a stain, leaving a definite tint of colour to the lips which mean this is an ideal product if you're not going to be able to touch up your make-up during the day. It also has a slight minty scent which I think is meant to freshen your breath, although this fades quite quickly.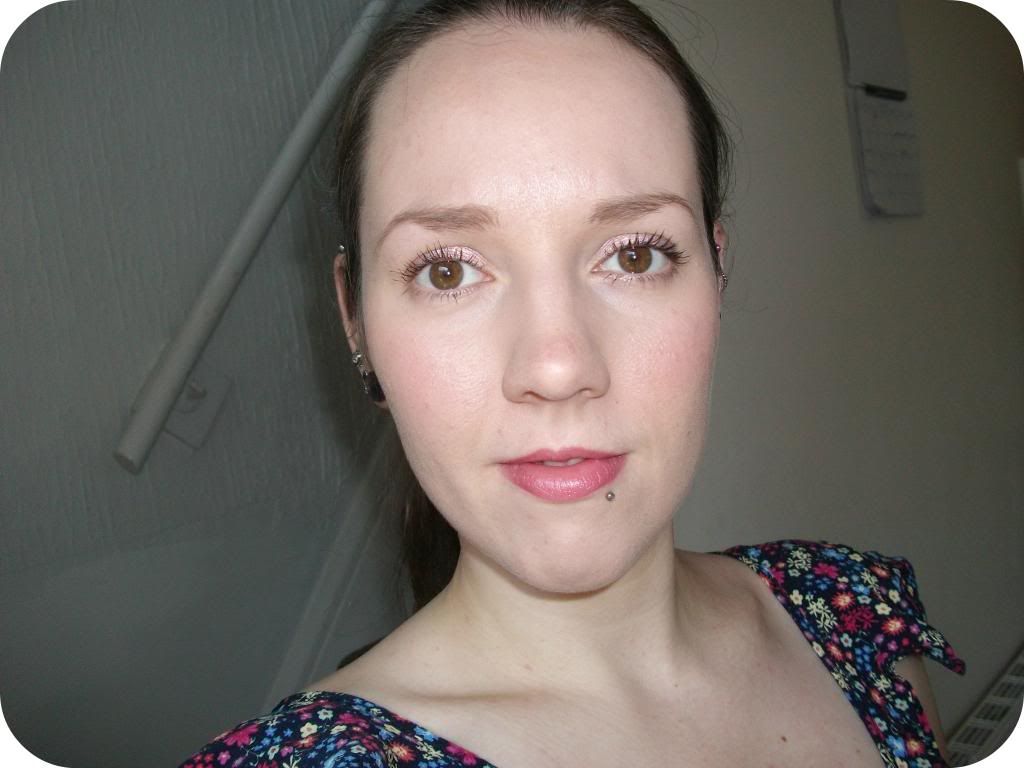 [Also wearing:
17 Photo Flawless Skin Primer
, Miss Sporty So Matte Foundation in '02 Light', Collection Sheer Loose Powder, Maybelline Dream Bouncy Blusher in 'Rose Petal',
MUA Dusk Til Dawn Palette
,
MUA Pro Brow Palette
,
Santhilea Magnetic Lash Mascara
*]
Overall, I think the Just Bitten Balm Stain is a lovely lip product, good value for money, providing decent colour payoff and a great lasting power. My only minor complaint is the writing on the side of the crayon scratches off quite easily, as is often the case with plastic packaging like this. Just Bitten Kissable Balm Stains are available from
Boots
and
Superdrug
, priced at £7.99 (though currently £5.99 in Superdrug, and Buy One Get One Half-Price in Boots).
Do you own any of the Revlon stains? Which is your favourite shade?
xo
Please check out my Featured Advertiser,
Sophie Jane
, for beauty reviews, fab recipes and gorgeous photos!