Have you heard of
Stylight
? I'd describe it as what would happen if Polyvore and Pinterest had babies; a site where you can browse, create "looks", follow other members whose "looks" you like, "heart" looks items, and (perhaps most importantly!?) shop.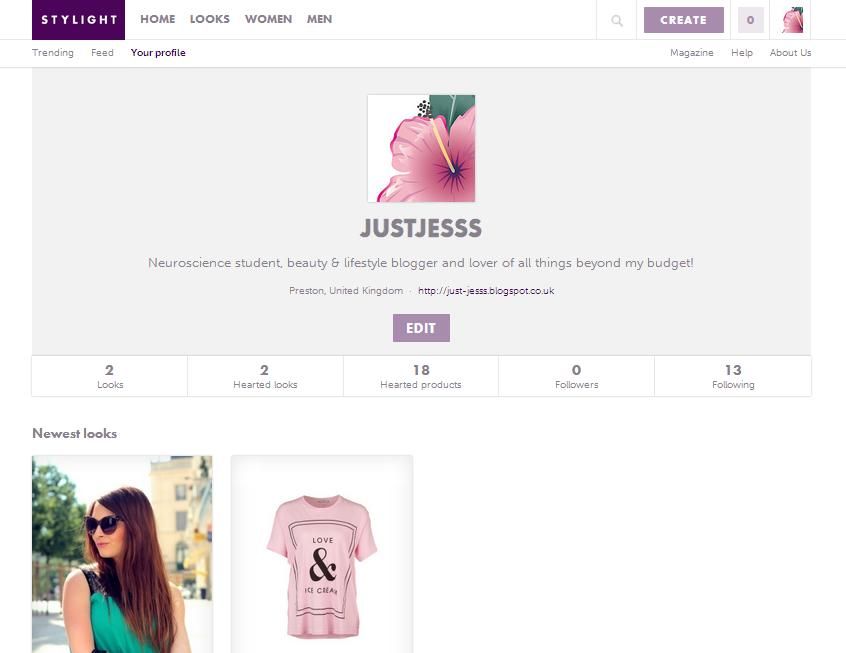 First up, you create a profile. This shows basic information like how many people you follow, how many people follow you, and items/looks you've "hearted". This is also where people can find "looks" you've created. You can see on
my profile
that I'm not very popular, but that I'm following a few people and have created two "looks".
A "look" is sort of akin to a Pinterest board or a Polyvore set; clicking on a look allows you to see all the items in it. You can resize images, rearrange them, and also upload your own photos, add music or video, and type in quotations, as I've done above, which means you can personalise each look and make it your own. Looks are a great way of putting together outfit ideas; you could choose a key item such as a dress, and then create a look of accessories and other clothing which would go with it. You can also create looks around trends, for example neon or Aztec, or a colour scheme, as I have with my 'Green With Envy' look.
On the Stylight homepage, you can see trending looks, members, and products, allowing you to find members to follow, browse what other people are creating and gain inspiration. From here, you can heart products and people's looks, and add products either to an existing look or create a new one. You can also sort products by type (for example dresses or shoes), and then search by price, colour, etc., making it easy to find the sort of thing you're after.
One of the best ways to interact with Stylight is by following other members; the Trending Members page is a great way to do this as it allows you to find people who are currently creating popular looks. You can also choose all-time most popular members, popular members this month, and new members, to liven up your Stylight feed.
From the homepage, you can also access your feed; this is where people you are following show up, so you can see new looks they've created, products they've hearted, and people they've followed. You can then find more people to follow, heart their looks, and add products they've used to your own looks.
Stylight is a fun-to-use site and an easy way to while away a few hours finding inspiration and creating new looks and dream wishlists. If you're a fashion fan, or just like looking at pretty things, I'd recommend having a browse - but don't hold me responsible when you find you've lost an hour! I can imagine this being a great tool for fashion bloggers, too, as you could upload an image of your outfit, add in the products you're wearing, and link to your blogpost.
Have you tried Stylight? If you have, or do, do
give me a follow
!
xo
Please check out my Featured Advertiser,
Sophie Jane
, for beauty reviews, fab recipes and gorgeous photos!