I've finally reached Day Ten of this challenge, and I'm honestly quite glad to see the back of it - it was fun at first, but it's definitely started to drag towards the end, as you can probably tell from the way there's been weeks between posts! Anyway, Day Ten is "One Picture of Yourself" and so I went with the obvious beauty blogger choice of combining this with a FOTD post. Firstly, products used:
[

17 Photo Flawless Primer

; Deborah Milano Comfort Mat Foundation in 'Caramel Beige'; Bourjois Cream Blusher in 'Rose Tender'; Collection Sheer Loose Powder; Elizabeth Arden Highlighter;

MUA Pro Brow Kit

; Avon Super Extend Mascara; Stila 'In The Light' palette; Accessorize Lipstick in 'Vintage Rose']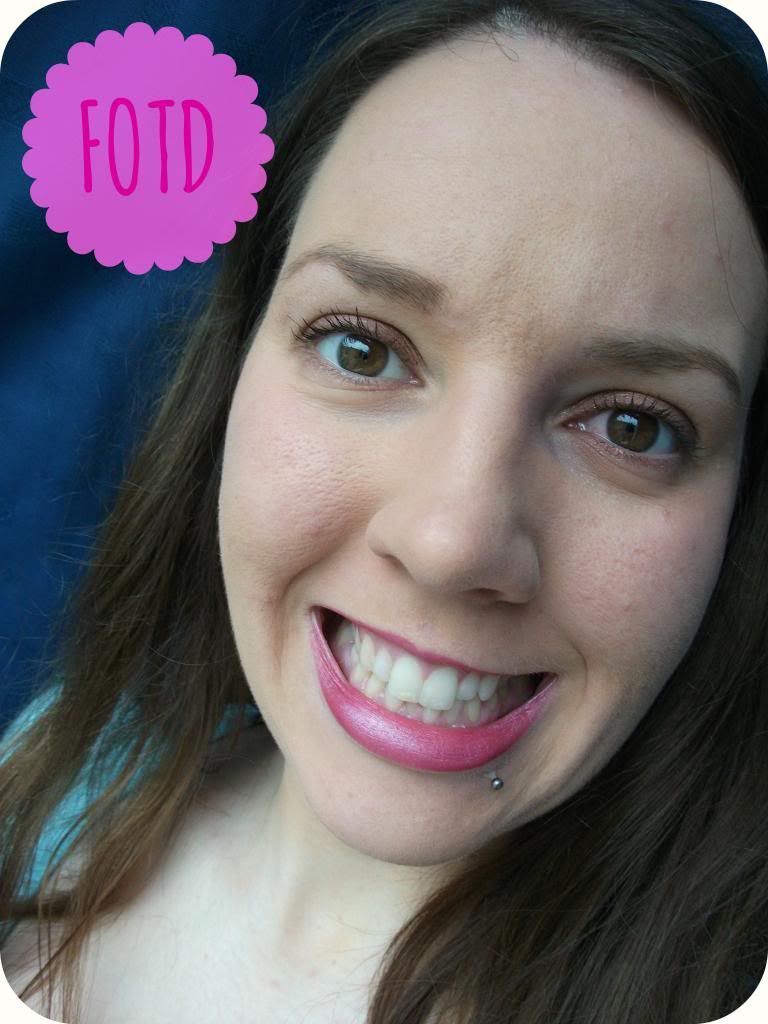 And then some photos of my face grinning maniacally. I sort of cheated on the "one picture" part, as you can see, but I think it's allowed as the second is just close-ups of the lipstick (which I received in my

swap package from Amiiee

) and my eyeshadow. I really like the Accessorize lipstick, which is a pretty blue-toned pink which I think suits my skintone quite well and also makes my teeth look lovely and white! For my eyes, I just patted 'Sunset' and 'Gilded Gold' from the Stila palette over my lids and blended out.
The foundation was a sample I received with my

Deborah Milano lipstick

, which I really like aside from it being far too dark for me. It looks okay blended out and powdered down, but I can still tell it's too dark and let's be honest, no shade named 'Caramel Beige' is ever going to be right for me! Other than that, this is a lovely, medium-coverage foundation which is easily buildable, blends really nicely and gives the perfect matte finish for me. I'll definitely be looking at a lighter shade of this once I've used up a few more of the insane number of foundations I currently own. The Bourjois blusher was also part of my gift from Amiiee and is a lovely subtle flush of pink with a slight shimmer, which I love.
Do you have any secrets for making too-dark foundation work for you? What's your favourite part of this make-up?
xo
Please check out my Featured Advertiser,
Sophie Jane
, for beauty reviews, fab recipes and gorgeous photos!